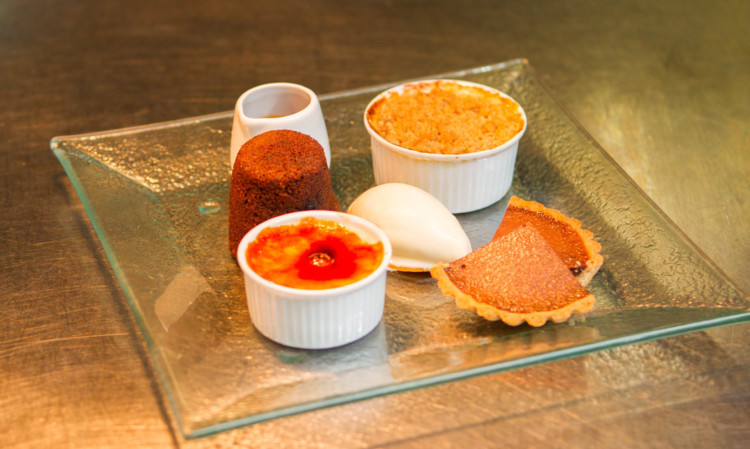 Half-hidden under the Ardgowan Hotel and sited just a couple of hundred yards from the world-famous Old Course is one of St Andrews' best kept secrets Playfair's Restaurant and Steakhouse.
One of the town's oldest established eateries, it's a comfortable, cosy, friendly place popular with locals, tourists and students alike providing what it describes as "high end casual" dining.
We booked for a Saturday night and it was packed a table of
12 celebrating a family birthday, a family of four with young children, friends enjoying a meal and couples tte tte.
Booking is essential, and some would-be diners who presumably hadn't booked were asked to come back later.
On arrival we were warmly met and shown to our table. Menus arrived and drinks ordered.
The term "Scottish twist" has become a much-misused description of dishes in some quarters. At Playfair's it is no idle boast. Head chef Duncan McLachlan has created a range of dishes which draws heavily on the traditional, but with a difference.
But what really brings the menu alive is the knowledge of the serving staff. Without being asked they explained several of the dishes of the day and answered questions without hesitation.
To start my partner ordered the Caesar salad with rump steak (£7.95). What arrived was a platter that could have easily passed as a main course.
Different types of lettuce were crisp and fresh, the dressing light and piquant, and the steak was soft and charcoal flavoured.
I went for pigeon breast with Stornoway black pudding, chutney and pomegranate dressing (£5.95).
The meat, served on a bed of mixed leaves, was perfectly pink and quite strong which worked well with the sharp sweetness of the chutney and the pomegranate dressing.
My partner ordered chicken Balmoral (£12.95) as main. The dish was a celebration of haggis, neeps and tatties but with a whole lot more. Perfectly cooked chicken was stuffed with the finest black pudding and served with a well-balanced mushroom fricassee. It was served with some creamed potatoes, neep puree and a peppercorn jus.
Playfair's describes itself as a restaurant and steakhouse and offers a good selection of steaks and fish.
The Puddledub buffalo sirloin weighing in at 280g and priced at £24.95 caught my eye.
What arrived on the plate was a magnificent piece of prime meat perfectly cooked and with the right trimmings home-made chips.
Rarely in my experience is dessert the highlight of a meal, but the chef's assiette of desserts (£8.95) at Playfair's was exceptional.
On a plate for two was an Irn Bru crme brulee which was like eating our other national drink with a spoon. Weird but wonderful.
There was a sweet and thick banana and pear sticky toffee pudding to die for and a sharp chocolate tart.
But the star of the show was undoubtedly the parsnip ice cream a more delightfully unusual taste you could not imagine.
Rating: 40/50
Price: Starters from £3,95, mains from £9.95, desserts from £4.95.
Info: www.playfairsrestaurant.co.uk / 01334 472970