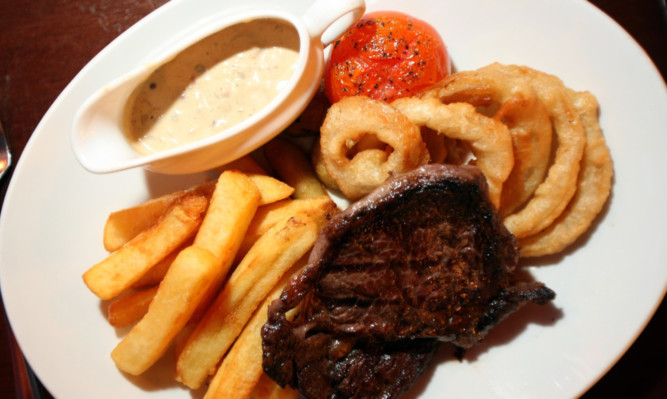 A lot can happen in two years. So when we looked online and saw The Stag in Forfar had enjoyed a refurb, we had high hopes.
The last time we visited the coaching inn was in January 2014 and we had an absolutely fantastic experience.
Booking a table for a Saturday night at 8pm, we turned up 10 minutes early, hoping it wouldn't be a problem.
Walking up to the bar, the waitress, juggling with plates and somewhat stressed, pointed us in the direction of our table and it was left to us to find a place to hang our coats.
Then, we sat down and waited and waited.
There was no obvious sign of a "major upgrade and refurbishment" as stated on the website, leaving us to assume the site had not been updated in a long time. Having witnessed a group of four diners who'd come in after us have their drinks orders taken, we began to get a little twitchy.
As the minutes ticked by, it was almost a full 20 before a young and clearly run-off-her-feet waitress approached us.
She explained there was a function upstairs, so it seemed these other customers were taking priority.
Ordering a large glass of Merlot (£4.80), a pint of lager (£3) and a jug of water, we sat back in anticipation.
The wine and beer were brought out quickly but there was no sign of the water.
And while our starters weren't long in arriving we were not treated to the complementary plate of freshly-baked bread rolls and olives we had tucked into in 2014, And that was a shame as they were delicious.
My starter rosette of smoked salmon with brioche, creme fraiche and lobster oil (£5.75) wasn't bad but it wasn't anything special, although it was a generous portion.
The warm salad of Stornoway black pudding, chosen by my partner, was received with greater relish and was complemented by a crisp apple and honey mustard vinaigrette.
As we waited for our main course, staff marched hurriedly backwards and forwards; obviously things were frantic upstairs. This didn't delay the arrival of our mains, however, which were absolutely fantastic, and here things began to look up.
My partner went for the char-grilled 8oz rib-eye steak (£16.50) with pepper sauce (£2).
Served with tomato, mushrooms, onion rings and Cajun seasoned fries, it was locally sourced, well-seasoned and went down a treat.
Having asked for it to be cooked medium-rare, the chef had done exactly that. It was flavourful and tender, just as it should be.
I was equally delighted with my main warm salad of crispy sea bass fillets (£12.50). This was an absolute dream; heaven on a plate. Accompanied by chorizo, new potatoes, a soft poached egg and truffle oil, the fish was cooked to perfection and the whole dish was truly delicious.
Our spirits were most definitely lifted by this stage and after a breather, we perused the dessert menu.
Intrigued by the millefeuille of strawberries (£4.75) with a Pimms scented coulis, I asked the waitress if she knew what exactly this comprised. Strangely, she wasn't too sure but said it was French and involved pastry and promised that if I didn't like it, I could send it back a nice touch.
It turned out the dish was a work of art; layers of razor-thin puff pastry and cream filling accompanied by fresh strawberries and a trickle of Pimms.
It was airy, crispy, flaky and decadent in all the right places.
An evening which had suffered a very shaky start had ended exceptionally well. Clearly, it was a busy night but perhaps if there had been a few more staff on, the whole affair would've gone as swimmingly as it did on our first visit.
Rating: 39/50.
Price: starters £3.75-£5.75; mains £9 – £22.50; desserts all £4.75.
Info: www.thestagforfar.co.uk.