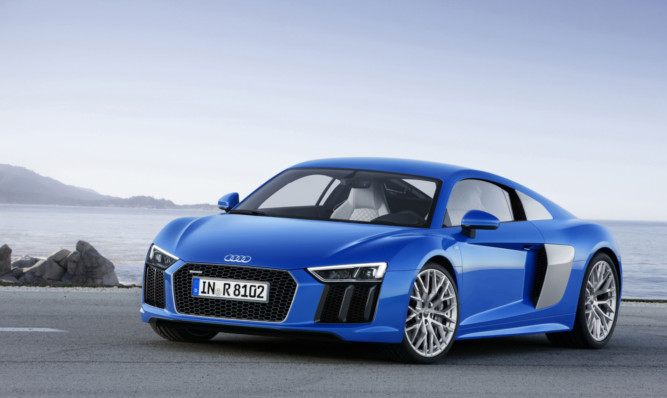 When people ask what's the best car I've driven over the nine years I've been The Courier's motoring editor one car is always close to the top of the list.
That's the R8, Audi's first foray into Porsche 911 territory.
Mid-engined with a choice of V8 or V10 power and Quattro four-wheel drive it is an outstanding sports car.
And yet, with Audi's top line quality and comfort, it can pootle down to the shops or commute to work as easily as it can power-slide its way around a race track.
Eight years after it was launched, Audi has released images of the all-new second generation R8.
It will only be available with a twin-clutch S tronic transmission and a V10 engine initially with either 533bhp or 602bhp. The faster V10 Plus model covers 0-62mph in 3.2 seconds and hits 205mph flat-out. Never mind Porsche: that's Ferrari, Lamborghini or McLaren-level fast.
A new aluminium and carbon-fibre chassis shared with the Lamborghini Huracan means it weighs 50kg less than its predecessor, but is 40% stiffer.
With cylinder on demand (COD) technology and stop-start as standard, the standard R8 returns up to 23.9mpg with CO2 emissions of 275g/km. The higher-powered V10 Plus version has official figures of 22.8mpg and 289g/km.
The second generation of the R8 forms the basis for the electric R8 e-tron, which will be available to order this year.
Battery improvements mean that the range has increased to 280 miles, compared with the 133 miles of the car based on the previous R8. With 456bhp, it can accelerate from 0-62mph in 3.9sec.
No word on UK prices just yet, but on the continent it'll start from 165,000 Euros (£120,000) for the base V10, and 187,400 Euros (£136,500) for the V10 Plus.
It will be unveiled at the Geneva Motor Show next month and goes on sale in May.