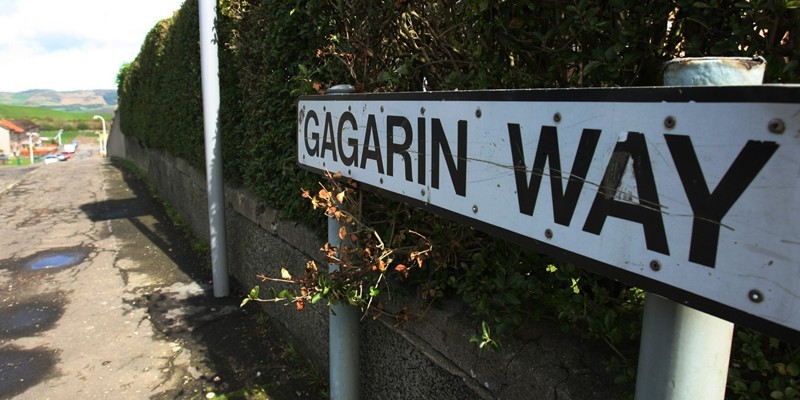 On this date the Soviet Union put the first man in space but down on the ground one small corner of Fife will forever be Gagarin Way.
On April 12, 1961, USSR cosmonaut Yuri Gagarin was launched in Vostock 1.
Consisting of a single orbit of earth, the 27-year-old was in the air for 108 minutes.
And while a statue will be unveiled in the Mall in London this July, the former Fife mining village of Lumphinnans had put the cosmonaut firmly on its map decades before.
An ordinary street, with rows of terraced houses the likes of which can be spotted in nearly every Scottish town.
But what was extraordinary was that the hilly street, whose name gave rise to playwright Gregory Burke's award-winning drama of the same name, was the only one in Britain named after the cosmonaut.
And it was all down to the pocket of communism which blazed a trail through the community.'International celebration'Lumphinnans a long, gangly stretch of a town between Cowdenbeath and Lochgelly which once was nicknamed Little Moscow had as its member on Fife County Council one Robert Smith.
And it was he who suggested Yuri Gagarin's name be immortalised in west Fife forever.
"He raised that suggestion as it was felt it was an international celebration," said Cowdenbeath area committee chairman Willie Clarke, who took up public office in 1973 as a communist councillor with Fife County Council and has since served on Fife Regional Council and Fife Council.
"Lumphinnans was also a very progressive political village it produced two presidents of the Scottish NUM, Abe and Alex Moffat," he added.
So there is also a Moffat Crescent, not to mention Robert Smith Court.
Round the corner is Gallacher Place, named after Willie Gallacher, the communist MP who was local MP from 1935 to 1951.
And rumour has it the village was even going to name a road after the first woman in space too, so sitting alongside Gagarin Way might have been Tereshkova Avenue but that plan came to nothing.