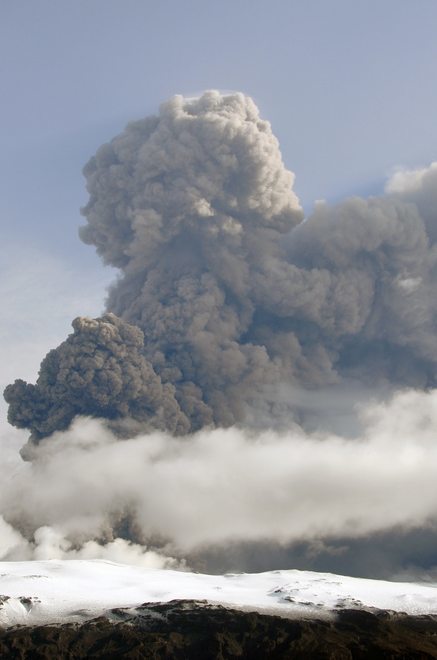 A St Andrews University geologist has said he would be "gobsmacked" if the Icelandic volcanic ash cloud caused the "apocalyptic scenario" of planes falling out of the sky.
However, a spokesman for the Civil Aviation Authority (CAA) last night disputed Dr Adrian Finch's claim, saying there is a "very real safety risk" when plane engines are exposed to volcanic ash.
The academic told The Courier that the geological make-up of Eyjafjallajokull meant it was unlikely to pose the same risk as Mount Galunggung in Indonesia, which nearly brought down a British Airways flight when it flew into its ash cloud after it erupted in 1982.
The plane fell to within a few thousand feet of the ground before it was possible to restart the engines.
But Dr Finch explained that the risk posed by volcanic ash depends on lava type, which differs depending on location.
He said, "The Earth's crust is made up of tectonic plates. Some move on top of each other pushing the other one down like in Indonesia and the Philippines, where volcanoes have sticky magma. When they explode they release an extraordinary volume of volcanic ash.
"In Iceland, the plates are pulling apart and the volcanoes formed under these circumstances are not known for generating much ash."
Dr Finch said the main problem with the Icelandic volcano which is still erupting was that it was under a glacier and producing steam which was carrying the tiny fragments of ash "easily" into the atmosphere.
According to Dr Finch, the fragments are so small and have been "dissipated and distributed" into the skies to such an extent that he would be "genuinely surprised" if the ash cloud could bring down a plane.
"Where planes have stalled before, the ash cloud has been of such a volume that the sun has been blotted out there has been a blackened sky.
"I would be gobsmacked if we were met with the apocalyptic scenario of planes suddenly falling out of the sky."
He added, "As a passenger, I am happy for the aviation authorities to err on the side of caution, though."
A CAA spokesman said they were taking on advice from experts and that "the internationally accepted advice is not to fly through a volcanic ash cloud whatsoever."
He said, "We have been monitoring the situation along with the Met Office and a lot of work has gone into measuring the volumes.
"In the past there is very real evidence of volcanic ash clouds stalling engines including a British Airways flight over Indonesia in 1982 and a KLM 747 over Alaska in 1989."
He added, "We had to close areas where there were dense concentrations of ash and we are continuing to work with engine manufacturers to come up with robust recommendations."
Photos used under Creative Commons licence courtesy of Flickr users NASA Goddard Photo and Video and Dyntr.