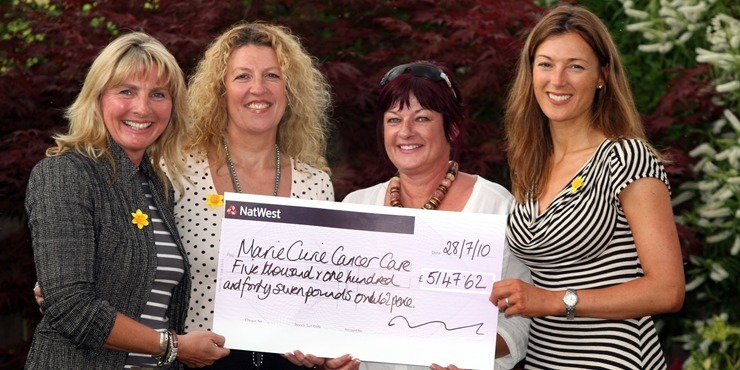 Four friends who trekked 100 miles for Marie Curie Cancer Care yesterday presented the charity with £5147.62 and then promptly pledged to cap it by scaling Britain's highest peak next month.
Brenda Hally of Monifieth, Jenni Samson of Broughty Ferry, Lynsay Milne of Forfar, and Petra McMillan of Carnoustie, hiked the West Highland Way in May in memory of Petra's mum Renate Rennie and in support of the "invaluable service" Marie Curie provide to cancer patients and their families across the country.
The intrepid walkers have since decided to join dozens of other hikers for a Marie Curie-organised group ascent of 4406ft Ben Nevis on August 28.
Petra said while the day-hike will be no walk in the park, it will be a more relaxed affair than the highland hike this summer.
Petra said, "We all thoroughly enjoyed the West Highland Way and we're very proud of every friend and family member who helped us raise so much money.
"Going back to do Ben Nevis, together with so many other people who share our sentiment for Marie Curie, will be the ideal end to a summer of fund-raising."
Juggling work and child care commitments, the women condensed the 96 miles from Milngavie to Fort William into just five days rather than the normal seven, averaging almost 20 miles a day.
Unfortunately, Jenni badly twisted her knee on day one and had to pull out at the end of day two, leaving Brenda, Lynsay and Petra to complete the challenge.Emotional reunionGoing back to tackle Ben Nevis will unite the girls once more, allow them to reach the summit together and cap a challenging and emotional fund-raising effort for them all.
Brenda, a seasoned hiker and fund-raiser, boosted the charity's coffers by holding a dinner dance at the Inchture Hotel in May, which was attended by over 100 people.
The West Highland Way hike was a poignant choice since Petra's mother, for 35 years a carer herself, was an avid walker and the family had last holidayed together at Loch Lomond in September 2008.
One photograph of Renate shows her on the banks of the loch wearing a daffodil lapel pin the Marie Curie badge five months before she was diagnosed with an inoperable brain tumour.
She died, aged 69, on June 28 at Roxburghe House, Dundee, but prior to that had been cared for at home in Carnoustie for three months by her family, working with Marie Curie nurses.
The free nursing service which Marie Curie provides for terminal cancer patients and their families allowed Renate the choice to end her life at home and while complications later forced a hospice admission, Petra and her family say they will never forget the help they received.
"Mum absolutely deserved the care she received from us but without the support of the charity we would have really struggled to hold it together," she said,
"Just having a few hours to rest and re-focus while a nurse was with mum kept us stable enough to deal with what we had to each day.
"I am happy to put myself through whatever I can to help Marie Curie and I would like to thank everyone for every penny and pound they pledged to support me and the girls."
If anyone would like to support the women on their Ben Nevis assault, they can donate online via www.just giving.com/PetraMcMillan or call Marie Curie on 0131 561 3948.