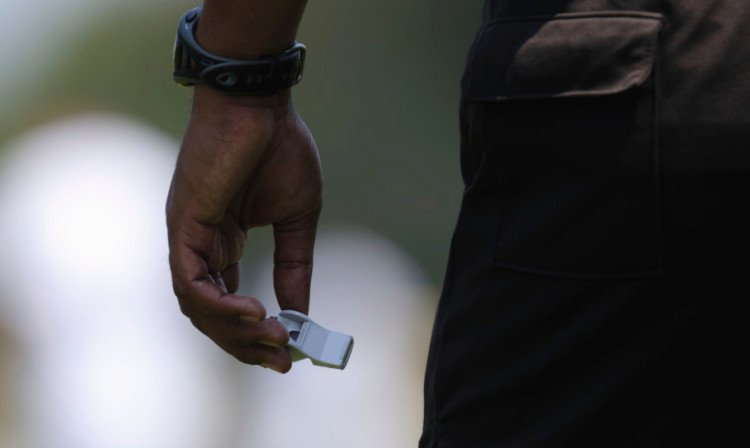 From the top of the game to its lowest levels, football referees are under more pressure than ever. It may take a tragedy before things change, finds Jack McKeown.
Being a referee at any sport is a thankless task. Do your job perfectly and the best you can hope for is to be ignored. You'll get none of the glory the players receive and you'll be lucky if you get a perfunctory thank you at the end of the match. Make a single mistake, or be perceived to be wrong, and all hell can break loose.
Because of the money involved in the upper echelons of the game and the passion it stirs at all levels, football referees have it particularly hard. In fact, former Premier League referee Mark Halsey believes the pressure on top-flight officials could lead to one of them committing suicide.
Referees are coming under increasing scrutiny as a result of greater media focus as well as social media outlets, such as Twitter. Halsey, who retired from officiating at the end of the last Barclays Premier League season, believes more needs to be done to support his former colleagues.
He said: "There is no hiding place on the field and you have to be mentally tough. But it also follows you off the field more and more now and it can destroy you. I do feel that referees should get more help to cope with the increasing level of mental strain. In my view, given some of the episodes of recent seasons, it will not be long before a referee has a nervous breakdown. I also believe that if we do not do something to help referees with mental health and stress issues, then we could see a suicide."
Halsey was the victim of two abusive tweets 12 months ago after officiating in Manchester United's 2-1 victory over Liverpool, sending off Reds midfielder Jonjo Shelvey before awarding United a penalty, which was scored by Robin van Persie.
The tweets, both of which referred to his throat cancer diagnosis in 2009, were widely condemned by other Twitter users.
It isn't hard to understand how officiating a game where every player earns a telephone number salary and millions of people are scrutinising, criticising and judging your every move could push a person to breaking point.
But, quite incredibly, it appears even if you take the money out of the game referees don't have it any easier. In fact, the risk goes from verbal and online abuse to one of a physical nature.
Even a surprising number of children's football matches have been abandoned because the referee felt under threat.
Earlier this month a Tayside under-15s football game was abandoned by the referee because of the amount of abuse he was receiving from the sidelines.
The Perth and Kinross Youth Football League match between Blairgowrie and Letham Whites was called off 10 minutes before full time.
Referee Jim Small had sent off two Letham players and awarded two penalties to their opponents at Blairgowrie's Davie Park decisions that left the visiting camp, including many parents, unhappy.
In May police were called after an incident of red card rage at a football match in Broughty Ferry saw a referee lock himself in the match officials' room.
Broughty Athletic's East of Scotland Cup tie against Bonnyrigg Rose at Whitton Park was abandoned 10 minutes from the end.
Referee Ross McIntyre locked himself in the match officials' room after stopping the game and walking off the pitch following an altercation with a Broughty Athletic player, who he had just sent off.
Jim McBride works as an engineering manager in Dundee. He spent 14 years as a Fifa referee and officiated at Uruguay's 1-0 win over Brazil in the 2001 World Cup qualifiers. He says refereeing at Sunday League level is much more risky than officiating a major international contest.
"At the level I was doing it at, you're very protected," he said. "People in the stands can't get to you. In your local park anyone can be there and easily get onto the pitch to cause you harm.
"I don't know what the answer is. You can't have a police presence at every Sunday League match. There are so many of them that the police would be overwhelmed. These guys will be earning around £40 per match. That's not nearly enough to justify being threatened."
Jim says that as long as football continues to raise the passion it does, refereeing will be an occupation that carries risks.
"People have to understand the pressure referees are under. You're making on-the-spot decisions. I was watching a game the other weekend and the panel couldn't make up their minds what had happened after watching a replay five or six times. The referee gets to see it once."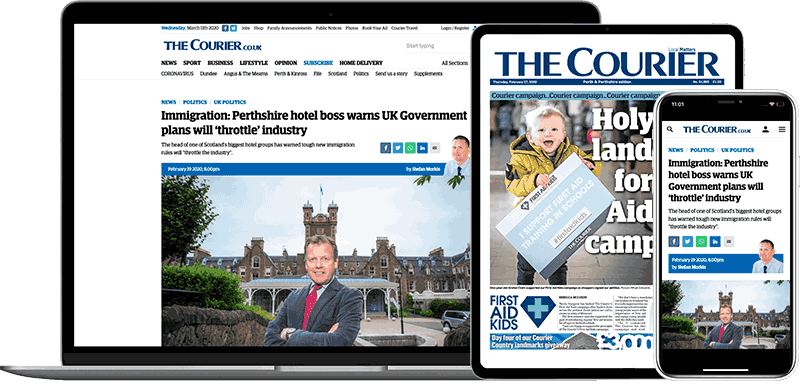 Help support quality local journalism … become a digital subscriber to The Courier
For as little as £5.99 a month you can access all of our content, including Premium articles.
Subscribe