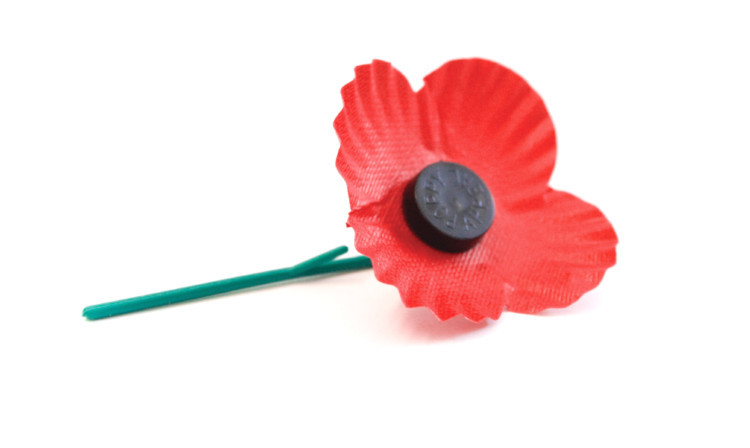 As Remembrance Sunday approaches, Gayle Ritchie explores how buying a commemorative poppy can help veterans across Courier Country.
Relaxing in his favourite armchair with a coffee, veteran John Cumming looks as if he couldn't be more at home.
The 89-year-old is a resident at Rosendael in Broughty Ferry, a home that supports independent living for ex-servicemen and women of all ages. It's four years since paratrooper John came here and the stark reality is that he had nowhere else to go.
Years of battling alcoholism and a marriage break-up meant that John was forced to seek help and it's thanks to Rosendael that he's stayed sober and developed a strong social network.
A trip to the home, which is supported by Poppyscotland, reveals it to be clean and well-furnished, boasting rooms for dining, playing pool, reading, watching TV and extensive grounds. "If I ever left here, I've no idea what would happen to me," said John. "We all need this place; I had nowhere else to go when I came here and I'm very grateful to be here."
Before moving to Rosendael, John lived alone in Broughty Ferry and was being treated for alcoholism at Liff Hospital. His war career began when he was 18; he served a year with the Royal Electrical Mechanical Engineers and was a parachutist with the 6th Airborne Division, based in Salisbury, for four years.
John survived a drop on D-Day in Normandy in 1944, and went through Germany during the Second World War, winning a medal for the part he played in the liberation of Europe.
After he was demobbed, he found work as a lorry driver and in the building trade. But his battle with alcohol plagued him until it eventually took over his life.
Rosendael has proved invaluable in helping him overcome his demons. "I've kept off the drink, although I have the odd pint at Christmas, and I'm treated well here. The staff are lovely and look after us exceptionally well and I've made a lot of friends with ex-servicemen. There's a big library so I read a lot but there's bowling, putting and biking if you're into that. We really need the funding to keep the place going."
Rosendael resident David Cameron, 80, echoed John's thoughts. Originally from Buckhaven in Fife, partially-sighted David, a former aerodrome fireman in the RAF, struggled to cope alone in sheltered housing and moved to the home this year.
"It was getting too difficult to look after myself. My sight had been going for 10 years and I'm almost totally blind. Coming to Rosendael has been a godsend I get all the support I need, the food is fantastic and the trips out are great. I often sit in my room, playing records, but it's a good feeling to be here."
Operating facilities like Rosendael, which are run by the charity Scottish Veterans Residencies (SVR), comes at a considerable cost and they're heavily dependent on funding from Poppyscotland.
"We need facilities that can cope with anybody at any stage of their lives; places they can feel safe, secure and wanted and where they can get their self-respect back," said SVR chief executive Ian Ballantyne. "We're just a small charity and it's vital we get additional funding. We rely on Poppyscotland and other benevolent funds for support."
Poppyscotland donated more than £567,000 to SVR in the last six years; £135,000 of this was spent refurbishing bedrooms in Rosendael.
"The aim is to help the transition back into normal society," explained Ian. "We work closely with Combat Stress and other support groups. Many veterans who come to us have alcohol and substance issues, some can't cope with life, and others find it hard to make the transition. It's important to remember it wasn't the generals and air marshals who started wars they were just left to pick up the pieces. They were prepared to lay down their lives, or have their lives changed in major ways for us, and it's because of them that we're able to enjoy the freedom we have today."
Jim Reilly, founder of the Tayforth Veterans Project in Dundee, stressed that while it's important to support Remembrance Day, caring for veterans is a year-round issue. The project offers a drop-in service for ex-servicemen and women and refers them to services like Combat Stress and helps with benefits, housing and advice.
"We offer them a place to come to, somewhere where they are not on their own, where they can meet other veterans. It's very important for everybody to buy a poppy to support veterans locally and nationwide. We need funding to support people all year round."
Poppyscotland Chief Executive Ian McGregor said: "Poppyscotland provides year-round support to Armed Forces veterans and their families living in Scotland, of all ages and from all service backgrounds. We need to raise more money through the annual Scottish Poppy Appeal to meet increasing demands on services. Whether someone has suffered a battlefield injury, is haunted by events they witnessed on the frontline, or is simply struggling to adjust to life outside the Armed Forces, Poppyscotland provides practical help."
Money raised enables Poppyscotland to make a difference through direct financial assistance to individuals and by funding specialist services in areas such as advice, employment, housing and mental health. Last year's Scottish Poppy Appeal raised £51,693 for Angus, £51,732 for Dundee, £130,610 for Fife, and £71,411 for Perth and Kinross.