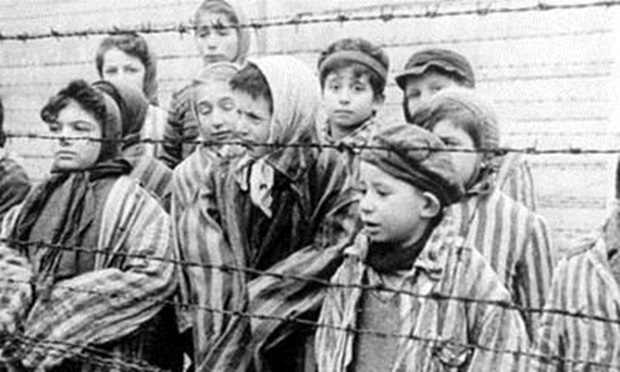 Seventy-one years ago, the Red Army liberated the Nazis' largest concentration camp at Auschwitz, near Krakow, in south-west Poland.
It's estimated the German Schutzstaffel (SS) systematically killed at least 960,000 of the 1.2 million Jews deported to the camp between 1942 and 1944.
Other victims of the so-called 'Final Solution' included around 74,000 Poles, 21,000 Roma, 15,000 Soviet prisoners of war and at least 10,000 from other nationalities.
It's thought as many as 15,000 gay men were also among those who perished in concentration camps.
History records that it was the largest mass murder in a single location in human history.
Soviet soldiers who entered the gates on January 27, 1945, found grisly evidence of the horrors.
In addition to 7000 starving prisoners found alive in the camp, they also found millions of items of clothing that once belonged to men, women and children who were sent there.
Today, the Auschwitz museum – a UNESCO world heritage site since 1979 – holds many of these items including 6,350kg of human hair, more than 100,000 pairs of shoes, 12,000 kitchen utensils, 3,800 suitcases and 350 striped camp garments.
Now, more than seven decades after the liberation of the camp, Holocaust Memorial Day 2016 will remember the estimated six million Jews murdered in the Holocaust and the others killed during Nazi persecution, as well as those lost in subsequent genocides in Cambodia, Rwanda, Bosnia and Darfur.
'Don't stand by' is the theme of this year's commemoration, and its aims are being supported by Dundee-born Holocaust Educational Trust ambassador Beth Sommerville.
Three years ago, whilst in her sixth year at Grove Academy, Beth travelled to Auschwitz as part of the Holocaust Educational Trust's (HET) annual Lessons from Auschwitz Project.
For 16 years, the project has brought together senior pupils from schools across the country to visit the extermination camps and pass on lessons about their experiences in their schools and communities when they return home.
It is based on the premise that "hearing is not like seeing", as The Courier discovered when joining a similar trip with 200 senior pupils last October.
Beth, who gave a moving reading outside the gas chambers when she visited in October 2012, has been motivated to keep supporting the work of the trust ever since.
She said: "In the words of the Holocaust Memorial Day trust, the Holocaust and subsequent genocides took place because the local populations allowed insidious persecution to take root. Whilst some actively supported or facilitated state policies of persecution, the vast majority stood by silently at best, afraid to speak out; at worst, indifferent. Bystanders enabled the Holocaust, Nazi persecution and subsequent genocides."
Beth, 20, now in her third year of a psychology and sociology degree at Edinburgh University, added: "By remaining passive in the face of prejudice and discrimination, we accept and allow it. When we actively challenge it, we condemn it and hence condemn and aid in preventing the consequences that can arise from it."
After being selected to go on the 2012 trip with fellow sixth year pupil Connor Finlayson, part of the deal was to attend two half-day educational seminars.
Once the main project was over, the young people became student ambassadors, challenged with the task of spreading the messages they have taken from their experiences around their local communities.
The Grove duo went on to speak to groups including Monifieth Woman's Group, and held assemblies in support of Holocaust Memorial Day, helping to promote ending prejudice and discrimination throughout the school community and beyond.
In 2014, she also spent week in Washington DC at Georgetown University, where she studied in the United States Holocaust Memorial Museum.
Apart from the Auschwitz trip itself, Beth, said one of the most impactful experiences that lives on with her had been meeting Auschwitz survivor Zigi Shipper who was just 14 when he arrived at the camp.
Zigi lived through the horrific conditions in the d ghetto from 1940 until 1944 when the ghetto was liquidated and he was transported in cattle trucks to Auschwitz-Birkenau where he was stripped, shaved and showered. He was later transported two weeks later to the Danzig concentration camp and eventually sent on a 'death march' to the German naval port of Neustadt with typhus and amazingly survived the illness after being liberated by the British army on May 3 1945.
His inspiring words had the entire room captivated. His final message was "Whatever you do; you must not hate. You shouldn't hate because hatred will do nothing for you. If anything you will be the one that will suffer."
Beth added: "It sounds clichd but hearing from Zigi changed my life. The things he said. The message he wanted to get across. What he went through was horrendous. But his was more a message of hope. Not to be consumed by hate. His words resonated throughout my day at Auschwitz and made my trip more emotive.
"The message we tried to pass on to fellow pupils afterwards was to try and focus on humanity. That humans were involved whether perpetrators or victims. Even the smallest amount of prejudice and discrimination can develop and develop and lead to horrific genocide. We can prevent this happening by standing up against prejudice, at whatever level. The first step to understanding is to not leave prejudice unchecked. It's very important to make people think especially when we turn on the news today and see stories about the rise of anti-Semitism and rise in Islamophobia. History has shown what can happen if prejudices are left unchecked."
Karen Pollock MBE, Chief Executive of the Holocaust Educational Trust, said: "This year's theme for Holocaust Memorial Day is 'Don't Stand By', and we pledge today, together with the thousands of people we work with across the country to always stand up against those who would seek to deny, distort or simply even forget the Holocaust. As the eyewitnesses become fewer and frailer and less able to share their story, we use this opportunity today to reassure them: we will never allow the Holocaust to be forgotten."