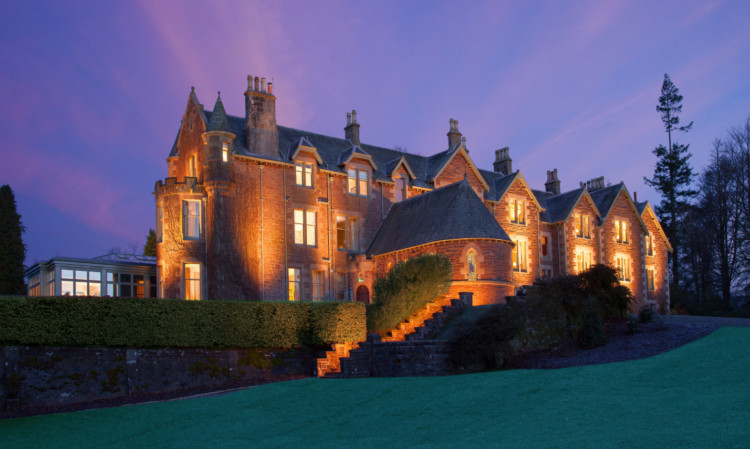 Tennis ace Andy Murray bought the Cromlix Hotel on a whim after its former owners left their card at his uncle's optometrists business in Dunblane, his mum Judy has revealed.
The Wimbledon champion was later told by Judy that it was on the market during a telephone conversation and after a whistle-stop tour he shelled out just under £2 million for the rundown Victorian mansion.
Speaking ahead of Tuesday's opening of the luxury hotel, Judy also admitted that the renovation cost her son "much more" than the price he paid for the 15-bedroom property.
She said: "The Edens dropped a card into my brother's shop. I was on the phone to Andy about something else and I dropped it in that it was up for sale. He said: 'Oh, I'd quite like to buy that'.
"He came up and had a look. It was very dark and cluttered. It needed a lot of love and attention. It cost a lot more to do it up than it did to buy it."
There has been much speculation that Andy intends to marry long-term girlfriend Kim Sears at Cromlix after he sent a "tongue in cheek" tweet about tying the knot after Wimbledon.
His brother Jamie's wedding was held at the hotel and Judy spoke of it as a "very special place" where her family have enjoyed many celebrations over 25 years.
However, when asked whether there are any big family occasions planned at Cromlix in the near future, she laughed and said: "No, not at the moment."
The venue is likely to be a home away from home for Andy, who has yet to see the redesign which was given the final seal of approval by Kim Sears.
"She has a great sense of style," said Judy. "She has been up three times."
It has been revealed that Andy will be in the area on April 23 to receive the Freedom of Stirling, so a stay at his new hotel is on the cards.
"Andy hasn't seen it but we sent pictures. I think he will recognise a lot but a lot is new. It was very important to keep the character and history of the house while modernising it.
"Andy is going to stay in April. He doesn't come to Scotland very often but this will be a place of peace and quiet. It'll be great for him."
The tennis influence begins and ends in the grounds, where two courts have been decked out in the All England Club colours.
Judy said: "Apart from the courts, you won't find any link to tennis. Andy didn't want that."
Despite taking a back seat in the redesign, Dunblane's most famous son did insist on naming the 15 rooms after famous Scots.
Contemporary choices include former Manchester United manager Sir Alex Ferguson, Olympian Sir Chris Hoy and singer Annie Lennox.
Also featured are historic figures such as Robert the Bruce, William Wallace, Charles Rennie Mackintosh and Robert Burns.
Guests who enjoy a stay at Cromlix can also take advantage of a well-stocked whisky room, a full-sized snooker table, a private fishing loch and the original chapel complete with a pipe organ built by Dundee-based John R. Miller.
Cromlix is run by Inverlochy Castle Management International on behalf of Murray.
Managing director Norbert Lieder said: "The interiors, service, food and attention to every detail of the customer journey will make sure Cromlix becomes as well known for its service as it is for its famous owner."
GIVING BACK
Andy Murray has spoken of the importance of giving back to the community that "put him on the right path" as Cromlix welcomes its first guests.
He said: "The town has a lot of history and it's important to me that people think positively when they hear about Dunblane, so if by me playing tennis and this hotel being a success helps make that happen then I'll be more than happy because the communities around here really deserve it.
"Cromlix was an important part of the area and meant so much to a lot of people and families, including mine.
"It's important to me that I give back to the community that put me on the right path all those years ago, and the hotel seemed like the perfect way to do it."
The tennis ace also praised girlfriend Kim Sears, who had a hand in the hotel's design.
He said: "I've obviously had a lot of input. However, Kim has been the creative director, so she has actually been the one in charge of making sure it looks and feels like a first-class place, something that from what I have seen she has done very well."
Murray will spend a night at Cromlix later this month. However, he won't be a regular visitor.
He added: "It will be difficult for me to be there much due to my schedule, but I certainly hope to be there once or twice a year."