 When you buy tickets for a big gig are you, at times, left feeling tick't off?
Lots of people are. The reason?
Why, sky-high booking fees of course.
In Thursday's Courier we present day one of our two part probe into charges that leave many people going "grrr" (or similar).
We also have the somewhat unusual tale of the car left "beached" on sandbags in Angus. It's all the result of a somewhat bizarre neighbourhood dispute. Which involves somebody parking on top of sand bags somebody else was hoping to use as a flood defence. Yikes. We have the full story.
Osprey fans look away now.
We report on sad news from Loch of the Lowes as one of Lady's eggs is nobbled and indeed more literally nibbled by a crow.
If you are of an artistic bent you will no doubt be most intrigued to peruse our coverage of the Turner Prize nominations not least as a result of a very strong Dundee connection…
And as if that wasn't enough we also have boffin news par excellence following the discovery of the remains of a "new" dinosaur, rather fantastically titled Pinocchio Rex. Jurassic park.
In our soaraway sport section, we have all the latest after St Johnstone welcomed the Scottish champions, Celtic, to McDiarmid Park looking for a morale-boosting win ahead of next weeks' cup final.
Dunfermline, East Fife and Cowdenbeath all have more on the line in their play-off encounters, and we have reporters dotted across the west coast for their semi-final first legs. Join the dots in Thursday's Courier.
Meanwhile, Montrose isn't renowned as a pole vaulting hotbed, but one of the town's sons has been selected for the Commonwealth Games. We have the full story.
For more on all of these beauties and indeed many more be sure to pick up Thursday's Courier. Alternatively, why not try our digital edition?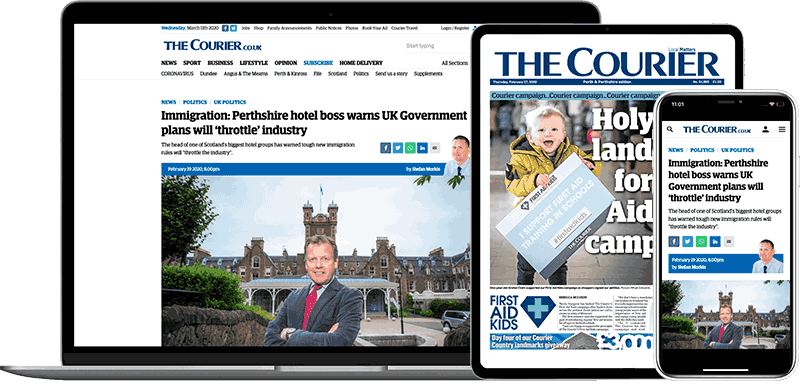 Help support quality local journalism … become a digital subscriber to The Courier
For as little as £5.99 a month you can access all of our content, including Premium articles.
Subscribe