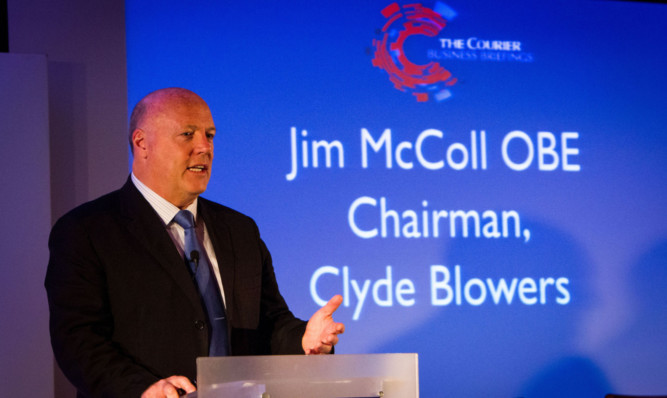 One of Scotland's leading entrepreneurs has highlighted education, training and instilling the drive to succeed as being key to future economic success.
Jim McColl, founder and chairman of Clyde Blowers Capital, was addressing an audience of more than 90 industry leaders at The Courier's inaugural Business Briefings event at the Old Course Hotel in St Andrews.
The Monaco resident, who has received numerous awards, honorary degrees and an OBE on the back of his high-profile business career, told guests he had left school at the age of 16 with just three Standard Grade qualifications.
He took up an apprenticeship with Glasgow-based Weir Pumps but soon realised that he would have to increase his knowledge in order to progress his career and indulge his love for sports cars.
"When I got to year six at Weir's I was trapped and I made a decision to get some further education," Mr McColl said.
He went on to get a degree in technology and business studies before studying for a masters in international finance.
The decision to further his education eventually led to him being snapped up by Coopers & Lybrand and moving into the corporate care sector in which his role was to turn around ailing businesses.
After a period with Coopers & Lybrand, Mr McColl set up on his own as a company 'doctor' in a bid to raise the cash required to pursue his ambition of buying into a company for himself.
A successful period spent revitalising the fortunes of a family-owned Aberdeen firm gave Mr McColl the funds to make his first major move up the corporate ladder.
He took a 29.9% in Clyde Blowers PLC, a small engineering company, and took the business private. Within five years, the business had captured a 60% share of the world market for its products and had just one major competitor.
He later bought over Weir Pumps, the company where he started out on his commercial journey, and has raised hundreds of millions of pounds of investment cash through the establishment of two Clyde Blowers Capital Funds.
Mr McColl said his success was down to extensive market research and delivering strategies designed to grow market share.
But in a panel discussion which also featured Andy Lothian, chief executive of Dundee-based learning and development company Insights, and Martin Shaw, operations director of event supporter John Clark Motor Group Mr McColl stressed the importance of a good education as a basis for a business career.
He also outlined his firm's efforts to offer an education and training lifeline to young people from disadvantaged backgrounds through a privately set up school initiative and said more needed to be done to light the entrepreneurial spark in Scotland.
"They (young people) are being brainwashed every day they are in there about work, the abilities that they have and the fact they can do anything they want if they put their minds to it," Mr McColl said.
"They have the right and ability to do anything they want."
Mr Lothian said successful people had a role to play in encouraging new talent.
"Business leaders have to got to help other people develop that has to be a really strong theme and it is a really rewarding thing."
Among other topics raised from the floor were questions about business financing, exporting and internationalisation.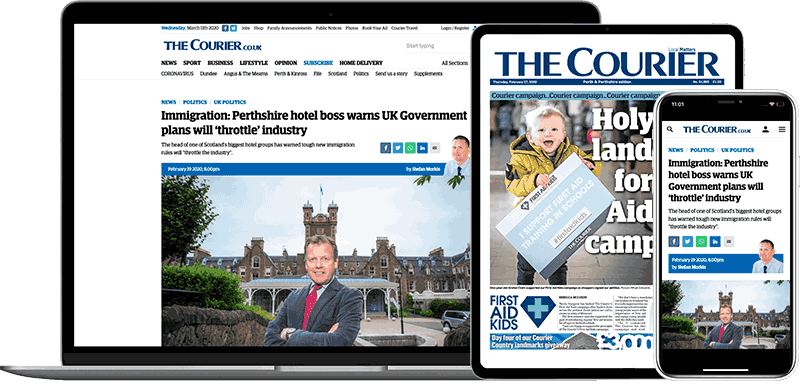 Help support quality local journalism … become a digital subscriber to The Courier
For as little as £5.99 a month you can access all of our content, including Premium articles.
Subscribe