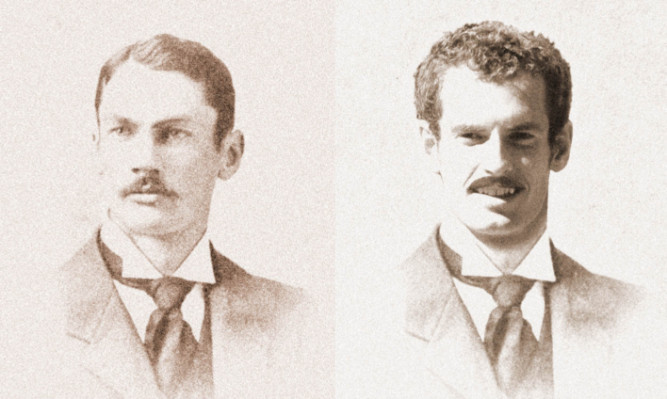 Andy Murray is not the first but the second Scot to win the Wimbledon men's singlesand he bears a remarkable resemblance to his predecessor, Harold Mahony, as Jack McKeown found out.
As a nation roared him to victory over Novak Djokovic under blazing skies on Sunday afternoon the weight of history was on Andy Murray's shoulders. If he could somehow overcome the pressure of millions of souls hoping for and expecting a win, and the not inconsiderable talents of the world number one, he would become the first British Wimbledon men's singles winner since Fred Perry in 1936.
And surely the first Scottish winner ever!
Well, just hold your horses there. Actually, Scotland already had its first men's Wimbledon Champion and a long time ago too.
Those who are scratching their heads right now can be forgiven. Everyone but tennis historians and the fans most thoroughly steeped in Wimbledon lore had forgotten about the existence of Harold Mahony.
The Edinburgh-born tennis ace lifted the Wimbledon Championship trophy in 1896.
In one of those strange quirks of fate, the Victorian era Wimbledon Champion bore a remarkable physical resemblance to the 2013 champion.
Audrey Snell is a librarian at the Wimbledon Lawn Tennis Museum. She agrees that Harold Mahony and Andy Murray bear an uncanny similarity to one another.
"He has the same wavy hair," she said. "And his jawline is very similar as well. Although Harold had a moustache. It would be interesting to see how close the resemblance would be if Andy Murray grew a moustache."
Well wonder no more. Thanks to the wizardry of The Courier's team of graphic artists, we can present Andrew B Murray (the "B" stands for Barron) resplendent with a moustache in the sepia-drenched style of a genuine Victorian daguerreotype.
We've placed him alongside one of the few surviving pictures of Mahony.
The likeness is quite uncanny. The two men have the same determined chin, similarly shaped mouths and eyes, and the same unruly hair although Mahony's is slicked down with pomade in the Victorian style.
The two men even share the same slightly prominent ears.
Mahony's story merits two pages in the book Wimbledon Gentleman's Singles Champions 1877 2011, published by the Wimbledon Lawn Tennis Museum. In it John Barrett and Alan Little explain: "Few champions have ever been so popular among their rivals. One of them, George Hillyard, wrote: 'surely the most generous-hearted, casual, irresponsible seventy-five inches of Irish bone and muscle that ever walked on court'."
Eagle-eyed readers will have spotted one word jumping out at them from the above paragraph: Irish.
"People think of him as Irish but he was actually born in Edinburgh," Ms Snell explained. "Not a lot is known about his life which is probably why his Scottish origin has never been widely recognised."
Mahony was born at 21 Charlotte Square in Edinburgh on February 13, 1867, the son of an Irish barrister and landowner. He made his Wimbledon debut in 1890 but crashed out in the first round. He rallied, however, and reached the semi-finals in 1891 and 92.
He spent some time in America during the mid part of the decade and his moment of triumph came in 1896 when he beat three-times champion Wilfred Baddeley in five sets, winning 6-2, 6-8, 5-7, 8-6, 6-3.
It made him the last Scottish-born player to win a grand slam until Andy Murray won the US Open in 2012. He remains the third and last Irishman to win the Wimbledon singles title.
Mahony emerges as a player who was not only popular but a very complete all round tennis player with the one glaring caveat that his forehand was particularly poor.
"A splendid all-round player in every other respect, he could not, and never did, acquire the right method of hitting the ball on the forehand," was his rivals' assessment of his game.
Like Andy Murray although hopefully this will change as the Dunblane player's star continues to rise Mahony's highest ranking was world number two.
He returned to Wimbledon to defend his title in 1897 but was overmatched, losing in straight sets to Reginald Doherty in the final.
Mahony's end was not a happy one. He was found dead amid the wreckage of his bicycle at the foot of a steep hill in County Kerry in 1905, at the age of 38.
Posterity can be a cruel mistress sometimes. Wikipedia's entry for Mahony states that his professional career began in 1890.
It explains that his 15-year pro career ended when he retired in 1905 "due to death".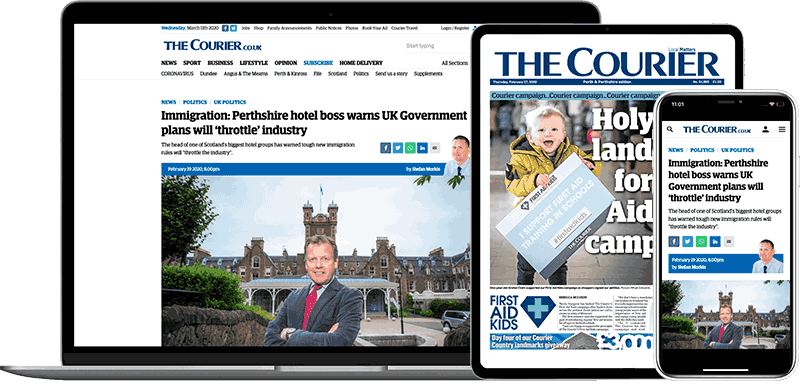 Help support quality local journalism … become a digital subscriber to The Courier
For as little as £5.99 a month you can access all of our content, including Premium articles.
Subscribe