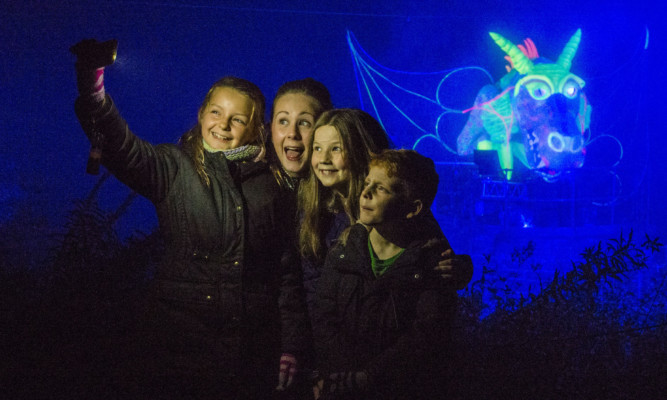 More than 5,000 people have explored the magical woods at Monikie Country Park in search of a dragon this month.
The number of people attending DragonQuest has far exceeded expectations and organisers are already planning to bring the event back next year.
The final show takes place on Sunday, but Vision Mechanics, the Edinburgh-based theatre company behind the event, are promising that it will return due to its "overwhelming success".
Artistic director Symon Macintyre said: "As we enter the final week, we are absolutely delighted that 5,000 people have joined us on our DragonQuest so far.
"We have not only achieved our targets but exceeded them…
"We have reached out to audiences in Dundee, Angus, Aberdeenshire, Fife and Perthshire, opening their eyes to an entirely new style of theatre, and early indications show that ticket sales remain very healthy for the final few days."
He said the group was now looking to develop the concept further.
"The challenge ahead is to take it to the next level and meet our audiences' growing expectations," he said.
"We are hugely grateful to our funders but, to make DragonQuest even bigger and better…we are looking to secure a major sponsor to fund new creatures, installations and more lighting."
The park has been filled with 3D fairies, trolls, goblins, hovering flies and, of course, the dragon itself, since the event began on October 7.
DragonQuest has been supported by Creative Scotland, EventScotland, part of the VisitScotland Events Directorate, and Angus Council.
Meanwhile, arts workshops with children and young people to produce dragon scarers for Monikie Country Park and local schools were funded by the Gannochy Trust, the CashBack for Creativity Open Arts Fund and Creative Scotland.
Paul Bush, director of events at Visit-Scotland, said: "We are delighted to support DragonQuest, attracting impressive crowds to Angus to experience this fantastical evening show.
"The stunning setting of Monikie Woods combined with the event's immersive storytelling and state-of-the-art technology, demonstrates just why Scotland is the perfect stage for events."
Councillor Jeanette Gaul, vice- convener of communities Angus Council, said the council were delighted "that people have come in their thousands" to see the show.
"If you haven't already seen this mystical, magical show I would urge you to come along and enjoy its wonders."
Tickets remain available for certain performances this week, and are available from the Webster Memorial Theatre in Arbroath on 01241 435800.