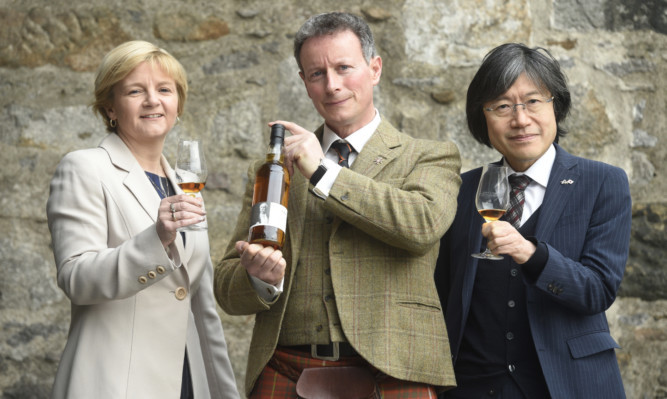 An Angus man launched what is thought to be the world's first fusion of Scottish and Japanese whiskies.
Jim Millar, a former Arbroath councillor who has won several awards for his work in promoting the relationship between Scotland and Japan, launched The Glover in simultaneous ceremonies in Tokyo and Aberdeen.
The whisky is named after Thomas Blake Glover, a Scot who had a profound impact on the modernisation of Japan in the 19th Century.
Among his many achievements, he founded what would later become global giant Mitsubishi, and his former home in Nagasaki still attracts up to two million visitors each year.
It is popularly believed that Glover's life provided the inspiration for Puccini's opera Madame Butterfly.
Mr Millar, whose awards include the Consul General of Japan's Certificate of Commendation and the Scottish Samurai Award, said: "Japan is producing some excellent whisky, and we were extremely fortunate to source one of the very few remaining casks from the Hanyu Distillery which closed in 2000.
"We were only able to procure it because of the unique nature of the project.
"It was blended with a fine Longmorn and a drop of Glen Garioch to complete the flavour profile.
"In an extraordinary quirk of fate, the blender, Alex Bruce of Adelphi Distillery Ltd, is the great-great grandson of the Earl of Elgin who signed the first ever treaty of trade and amity between the UK and Japan in 1858.
"This opened Japan to traders such as Glover."
The well attended launch, which was video linked to the Tokyo event, was held at the Aberdeen Maritime Museum at an exhibit to honour Glover, and was attended by the Consul General of Japan, Mr Hajime Kitaoka, Lord Bruce and the leader of Aberdeen City Council, Councillor Jenny Laing.
Mr Millar said: "We have two versions of The Glover and both have been exceptionally well received by whisky connoisseurs.
"This is a multi-faceted project.
"Our aim was not only to provide an outstanding and unique whisky, we also wanted to celebrate the life and times of Thomas Blake Glover and underline the important relationship that Scotland has with Japan.
"This encompasses trade, culture and increasingly, education.
"Those who have tasted it, tell us we have achieved our goals."
Japan is challenging Scotland for whisky dominance.
Although rooted in Scottish methods of fermenting and distilling malted barley and ageing it in oak casks, the Japanese have developed their own approach to making whisky that emphasises continuous improvements over long-held tradition.
Whisky production in Japan began around 1870, but the first commercial production was in 1924 upon the opening of the country's first distillery, Yamazaki.