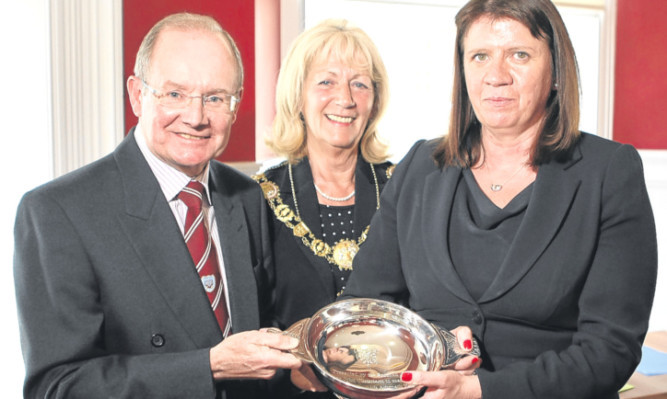 The longest-serving chairman in Scottish football history has been honoured for his 26 years in the game.
John Christison joined Arbroath FC as a committee member in 1989 and became club chairman in 1993.
With former St Johnstone stalwart Geoff Brown's retirement in 2011, the 63-year-old became the elder statesman of boardrooms across the country.
In that time he has worked with 18 managers, including Danny McGrain, John Brogan and John Brownlie.
Mr Christison was honoured with an Angus Council civic reception in the Canmore Rooms, Forfar.
At the gathering, Provost Helen Oswald described him as a hands-on chairman "often found with a paintbrush".
She said: "His services to football are well known, with giants of the game recognising the commitment and his major contribution to the game, at local and national level.
"His stewardship of Arbroath FC is a record of complete dedication."
Anne McKeown, a club director and member of the League Management Board of the Scottish Football League, presented Mr Christison with a quaich on behalf of the Scottish FA.
Accepting the honour, he said: "I've been so lucky over the past 26 years, making many good friends in Scottish football.
"I have worked with very many able committees, directors and managers over the years.
"There have been lots of highs and lows today is certainly one of the highs."
Mr Christison was born in Arbroath in 1951, and had an early love of the game at Hayshead Primary and Arbroath High.
He worked for 43 years as a civil servant, first in the Ministry of Labour and then Job Centre Plus in the town.
He played for Arbroath Harp and a wide variety of Sunday League teams until a leg break signalled the end of his playing days in 1977.
John and Marlyn were married in 1972 and together with daughter Julie and her daughter make for three generations with a strong interest in the Gayfield side.
At the club's most recent sportsman's dinner, former Scotland national manager Craig Brown paid tribute to Mr Christison and his contribution to both his club and Scottish football.