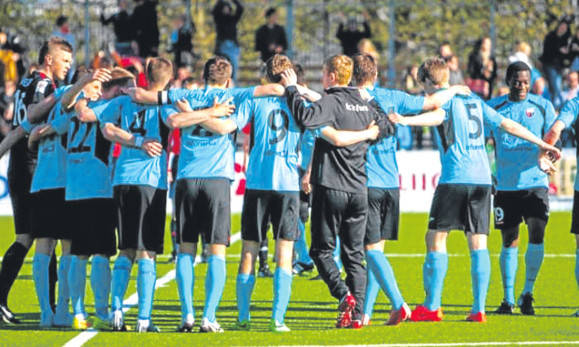 Estonian footballers who equalled Arbroath's world-famous 36-0 scoreline have admitted they did not know about the legendary result.
FC Infonet Tallinn team chiefs said that if they had been aware of the Lichties' place in the annals of football history they would have gone all out to find the back of the net one more time.
The Meistriliiga side ran out 36-0 winners against minnows Virtsu Jalgpalliklubi on Saturday in the Estonian Cup, just a few months before the 130th anniversary of Arbroath's historic triumph.
Karina Massalskaja from FC Infonet Tallinn told The Courier the club's managing director promised to buy the team three cakes if they scored at least 33 goals.
She said: "Like our head coach said in a pre-game comment, both teams got lucky with the draw. We gained experience by playing an amateur team and they got an interesting chance to play with a team from the Premier League.
"Our goal was to please our fans with goals and get to the next round. After 13 goals in the first half, our managing director approached the team and motivated them by promising to buy them three cakes if they'll score at least 33 goals. So we can assume that they were motivated enough to score 36 goals in total."
Estonia Under-21 defender Trevor Elhi managed to find the net 10 times as Infonet fifth in Estonia's top tier began their quest for a maiden domestic cup success.
However, only 83 fans watched the capital side strike 23 times in the second-half as everyone but the goalkeeper got on the scoresheet.
Karina said: "We were delighted by the result and the interesting game and, of course, the extra attention. We didn't know that a team from Scotland enjoyed a similar 36-0 win around 100 years ago.
"If we had known, then maybe we would have scored more."
Arbroath FC chairman John Christison paid tribute to the Estonian club because he did not think the scoreline would ever be equalled in the modern game.
"It's very nice to hear such positive feedback from Arbroath FC," Karina added.
Arbroath held the record for the world's biggest win until 2002, when, in Madagascar, AS Adema won 1490 against SO l'Emyrne in a thrown game.
Referee Dave Stormont later claimed that had he taken a harder line with the Aberdeen Bon Accord team, Arbroath could have won 430.
John Petrie, 18, scored 13 goals, still the record for most goals scored in a senior fixture, although it was equalled by Archie Thompson when Australia beat American Samoa 310 in 2001 in a World Cup qualifier.