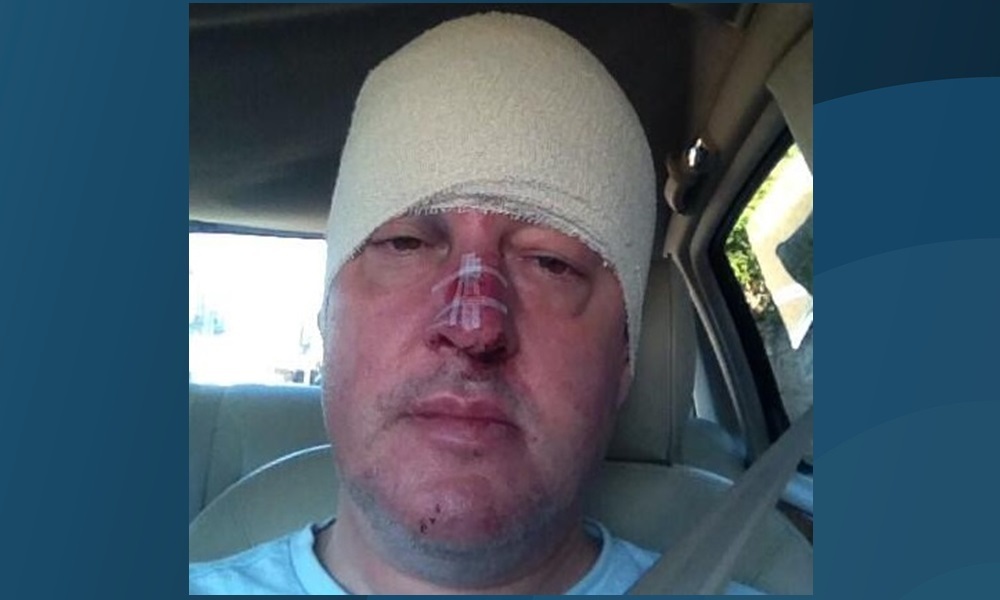 A local radio presenter was left with shocking injuries after a seagull attack in Dundee's Perth Road.
Gary Robinson, who hosts Wave 102's breakfast show, was on his way to work last week when a particularly aggressive seagull started dive bombing him.
He said: "I sensed something hovering over me.Then all of a sudden the gull started swooping and diving bombing while making these squawking noises.
"It was relentless. I wasn'teating anything at the time.I think they must have been nesting nearby.
"I just panicked. In my haste to get away from it I tried to cross the Perth Road, fell over my feet, forgot to put my hands out and landed face first."
Mr Robinson split his head open in the fall and also has a suspectedbroken nose.
As he staggered along the road, covered in blood, towards the DCA he passed a woman he sees every morning.
He said: "She thought I'd been mugged.My T-shirt was drenched in blood from the cuts to my face.
"All I was thinking about was 'who is going to do my show at 6am?'"
Luckily there were police officers in the area who took Gary to Ninewells Hospital, where he was seen straight away.
He needed stitches to his head and his nose and has been off work for most of this week after Thursday's attack.
He returned to work on Tuesday but felt so unwell he said he will not be back on the air again until Monday.
He said: "Now I want to warn otherpeople about these gulls.They are quite aggressive at the moment, particularly if they arenesting."
The attack took place at the bottom of the Perth Road and Gary said he still gets shivers down his spine passing the scene.
He said: "Honestly, I am reviewing where I park.I don't want to tempt fate by walking past there again."
He is on the road to recovery but said he has had to endure a fewjoking comments from friends about 'having a face for radio'.
He added: "I can't thank the emergency services enough.The police were great and the team up at A+E were brilliant. They saw me straight away."See gulls?People plagued by seagulls on their properties should report the problem, according to a councillor.
Dundee West End member Fraser Macpherson said the more nesting areas the council's expert animal control team can destroy the more people can be freed from the feathered menace.
Seagull infestation has become a major problem in urban centres largely because declining fish stocks have driven the birds on shore to forage.
Mr Macpherson said: "If you stop seagulls breeding for two consecutive seasons they will go away so the animal control team have been accessing the nests to remove the eggs and returning the next season to do the same.
"I would therefore urge people who are bothered with this problem to contact the council experts."