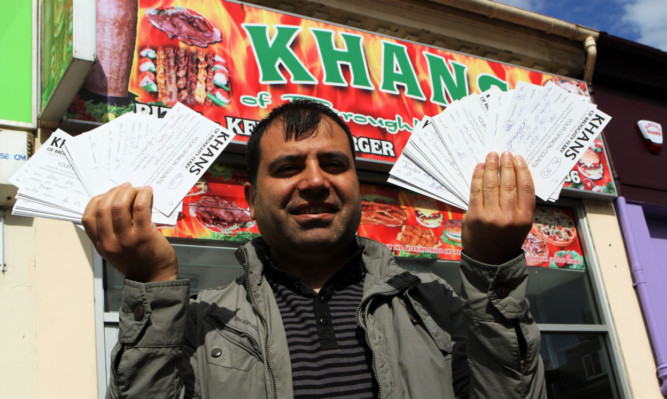 A popular Broughty Ferry takeaway has been given the green light to serve people into the early hours.
Councillors made the controversial decision to grant Khans in Brook Street a late licence after being "taken on a culinary journey" by a solicitor representing the takeaway.
A meeting heard 737 people had signed postcards in support of the fast-food restaurant opening until 2am during the week and 2.30am at weekends.
The move was opposed by local councillor Laurie Bidwell, who believed the later opening could cause anti-social behaviour and foul smells.
Janet Hood, a solicitor who appeared for Khans owner Teyfik Cetinkaya, told the licensing committee: "My client runs an extremely good business.There have been no issues with the police or any other agencies regarding anti-social behaviour or anything of that nature.
"He has a large number of staff as many as six working on busy nights who serve customers quickly and in a friendly manner. There is no 'queue rage', which is often an issue in takeaways after a night out.
"The only issue he has found is when people turn up at Khans after drinking and find it closed.
"His business faces closure if he is not allowed to open later. Since the pubs were granted later licences, his takings have gone down 15% to 20%."
Foods that are high in carbohydrate and fat – such as doner kebabs – also encourage people to sleep after drinking and their availability in Broughty Ferry would help discourage house fires started by people drunkenly cooking, as well as domestic violence, Mrs Hood added.
Broughty Ferry member Mr Bidwell said the postcard petition was "erroneous" because it was to keep Khans open, rather than grant a later licence.
He added that many of those that supported the application came from outwith the Ferry and that he had a responsibility to his constituents.
However, other members of the board were convinced by Mrs Hood's arguments, with Labour member Tom Ferguson describing her arguments as "a culinary journey".
SNP member Jimmy Black also added: "I had no idea a kebab could solve so many problems."
Khans was one of dozens of takeaways to be granted a later licence, after members agreed a number of changes to their policy on late-night food openings outwith the city centre.
Councillors agreed with convener Stewart Hunter that supermarkets, petrol stations and drive-throughs should be exempt, as should premises that currently have a later licence.
He also added that premises outwith the city centre should be able to open until half-an-hour after the closing of the nearest pub.
For more on this story, see Wednesday's Courier.