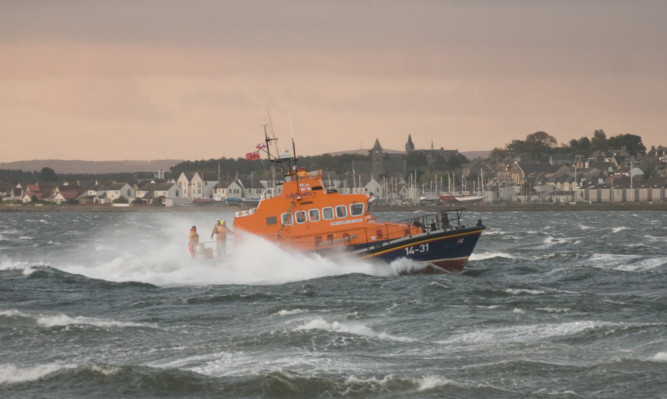 Broughty Ferry lifeboat station was the busiest in Scotland last year, new figures have revealed.
There were 1,078 launches in Scotland last year, with 92 of them at the Tayside town.
Across Scotland lifeboat crews saved 29 lives.
Coxswain Murray Brown said Broughty Ferry had been one of Scotland's two busiest stations for several years due to the large number of "leisure-related" call-outs.
He said: "Most of our shouts outs are leisure-related, whether it is people out on jet skis or people going out for walks on the beach and getting cut off by the tide we cover a large sandy area.
"We also help the police when they are carrying out searches.
"If you look at somewhere like the west coast, most of their call outs are for broken down fishing vessels, which doesn't happen so often here."
He said the most notable incident crews dealt with in 2015 was the search for a missing plane, which was eventually have found to have crashed near Abernyte.
"We were part of the search team because they originally thought it might have come down in the sea."
The Broughty Ferry lifeboat station currently has 30 volunteers and Mr Brown said they are vital to keeping the operation running smoothly and keeping people safe.
The coxswain continued: "It is a big commitment, especially with the station being so busy.
"We do an exercise every 10 days too. It's not just the guys and girls who volunteer their families have to help looking after kids and so on.
"Because we are a charity we have to do fundraising too."
The RNLI and its crews worked "exceptionally hard" in 2015 serving storm and flood-hit communities.
In December the Girvan lifeboat team helped passengers escape after a bus got caught in flood water and in the first week of January an Aberdeen crew used rocket-propelled lines to help SSE restore power after storms.
Last year also saw the RNLI begin a lifeguard service on four beaches in Fife.
Matt Crofts from the charity said: "We would like to thank all of our volunteers for their tireless hard work and dedication over the last 12 months."