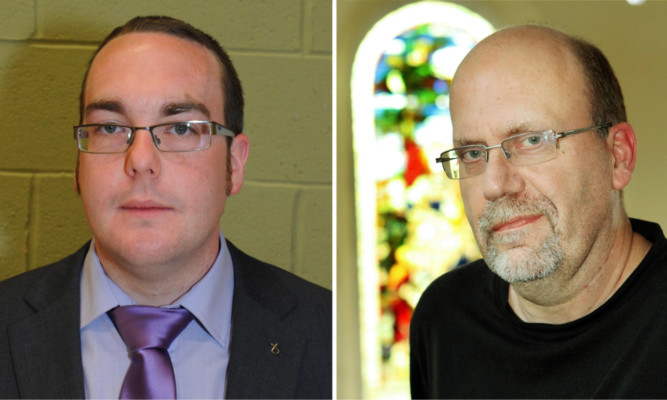 A formal complaint has been made to the SNP after a Dundee councillor was accused of mocking Christianity in an online spat.
Senior SNP member Gregor Murray has been accused by the Rev David Robertson of using "hate speech" and "derogatory" language in a "deeply offensive" attack on the Free Church of Scotland.
But the deputy education chief has defended his comments, saying he will "always stand up to bullies like (Mr Robertson)".
The Free Church of Scotland moderator said he was "stunned" by the behaviour of the "immature and embarrassing" councillor who has previously faced calls to resign after using expletives on social media.
The North East councillor said on Twitter that all Mr Robertson can do is "hate, hate, hate" after the Free Church moderator discussed the gender transition of Olympic gold medal winner Caitlyn Jenner in a podcast.
The deputy education convener also used the term 'Wee Frees' which Mr Robertson said members of the Free Church deem offensive and referred to the religious group as "an embarrassment to Scotland".
Mr Robertson said: "I am an SNP supporter, but he used derogatory terms that were quite inappropriate.
"He did not even engage with what was said. For an elected member it is immature and embarrassing."
The pair became embroiled in an unseemly online spat after Mr Murray responded to comments made by the Dundee-based minister in his Quantum of Solas recording.
Mr Murray has defended his comments, suggesting he will always stand up for LGBT rights.
He said: "I was writing in a personal capacity and as a member of the LGBT community.
"In his podcast, David Robertson uses words like 'gut wrenching' when talking about Caitlyn Jenner.
"If the worst thing I get into trouble for is standing up to bullies like him then I'm happy."
SNP administration head Ken Guild said that Mr Murray was writing in a personal capacity and that he would not be taking disciplinary action against him.