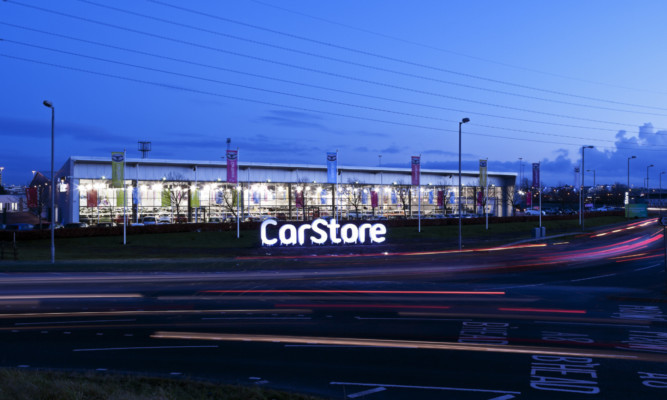 Around 70 jobs are to be created in Dundee after Scottish car dealer Peter Vardy confirmed plans for a major new dealership.
The firm is to bring its CarStore "car supermarket" concept to the city in a move that will bring a long neglected site at Dunsinane Industrial Estate on the Kingsway back into use.
The 8.5 acre site was formerly home to the Valentines card and postcard factory which closed down more than two decades ago.
The site was levelled some years ago but has remained vacant since.
The Courier first reported Vardy's interest in the spring but the firm has now confirmed its intentions to invest in the site.
The company last night declined to say what level of capital investment it was making in developing the site.
However, the outlay will run into hundreds of thousands at a minimum.
Vardy's said the plan was to create a "destination dealership" that would draw car buyers from far and wide.
The Glasgow CarStore includes an on-site caf for customers and high-tech displays.
The new showroom is not expected to open its doors until the early part of 2017, following the construction phase of the project which will itself create significant building works.
"After the success of CarStore Glasgow, and the warmth with which it was welcomed by the car-buying public, it is a natural progression to bring this offering to another city," group chief executive Peter Vardy said.
"The site we have chosen in Dundee is close to one of the major routes through the city and will provide easy access for people from Tayside and the whole of the east of Scotland to enjoy the CarStore experience."
The exact details of the Dundee project have yet to be finalised but the site in Glasgow stretches across 70,000 square feet and can accommodate more than 500 vehicles.
That unit sold around 3,500 cars in its first year of operation and that figure will increase to more than 4,000 this year a total of around 11 car sales every single day.
The Peter Vardy Group is no stranger to the north-east.
Peter Vardy Limited was officially launched in June 2006 when the firm acquired the Perth Vauxhall franchise.
The group has since grown significantly and now runs Vauxhall dealerships in Aberdeen, Perth, Kirkcaldy, Edinburgh, Motherwell and Dalgety Bay as well as operating five prestige marque showrooms.