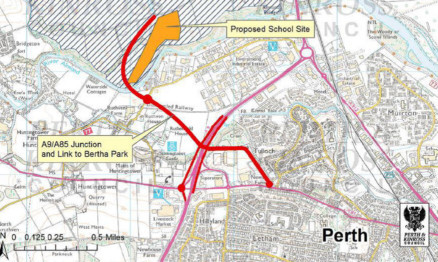 The opening of a multi-million-pound Perth secondary school has been delayed by a year.
Council chiefs said that the Bertha Park project was postponed following complaints from parents.
An initial funding agreement for the £23 million scheme required that the school be operational "no later" than March 31 2018.
However, parents objected to having to move their children midway through term and called for the opening to be delayed until after the summer break. Education Scotland had also criticised the timescale, claiming the transition would see the first wave of S1 pupils being forced to change schools twice in the space of a year.
Now Perth and Kinross Council has decided to postpone the date further, so that it qualifies for funding within the next financial year.
It also emerged the project still needs to overcome a series of other hurdles before any work can begin. At a meeting of the Lifelong Learning Committee, council leader Ian Miller said that the outcome of an upcoming public inquiry into the controversial A9/A85 relief road was "critical" to the future of the development.
The Bertha Park project has yet to secure planning permission and the council has still to strike a deal for the land.
Committee convener Bob Band said: "During the consultation, it became very obvious that the parents did not want their children moving into a new school mid-way through the academic year.
"The original opening date of March was based on the financial year and we had to have the school occupied within that time frame. We couldn't leave it until the start of the new term."
He said that after negotiations with the Scottish Government it was agreed to re-phase funding for 1,100-capacity school into 2019.
"The change of date does mean that it is a different group of pupils who will be the first students in the new school and officers will be going back out to engage with those parents who will now be directly affected by the change."
He said replacement schools for Kinross and Tulloch primaries were unaffected and will open in December 2017.
Mr Miller added: "This decision means that we remain on course to deliver three quality school buildings to meet the needs of pupils, parents and school staff in these areas for years to come."