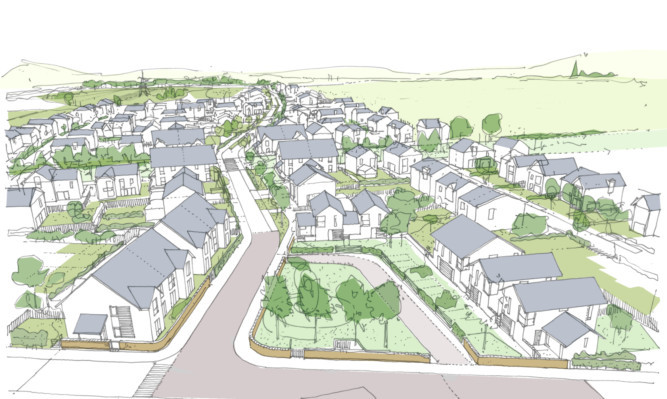 Councillors will be asked to reconsider controversial plans for a previously rejected half of the Western Gateway.
Half of the proposed Dykes of Gray Village development the section containing community facilities was rejected by elected members in what was criticised as a "votes fiasco".
The application seeks planning permission for 365 houses as part of the creation of a new village known as Dykes of Gray, which already includes a southern section of 230 approved homes.
On Monday next week developer Springfield Properties Plc will again go before Dundee City Council's development management committee in a bid to have the remaining section approved.
The depute convener of the committee, Jimmy Black, previously criticised councillors when the application was rejected last time round, calling for "a bit more professionalism".
The report to committee provides further information on aspects that some councillors asked for last time.
These include proposed commercial uses for buildings within the village centre, as well as a detailed education statement, outlining the developer's contributions.
Possible school provision was a key factor in the previous decision.
At that time Springfield chairman Sandy Adam told the committee he was satisfied with the council's position that Ardler Primary and Baldragon Academy could accommodate the expected number of children moving into the villages and, therefore, they had no plans to build a school as part of the development.
Objections relate mainly to education, drainage and flooding concerns.
Council officers have recommended the application for approval, despite the fact it does not fully comply with the Dundee Local Development Plan.
An officer said: "The principle of the development of a village in this area is long established and the proposals will deliver a high quality housing choice with appropriate community facilities.
"The application is therefore recommended for approval subject to conditions."
Councillors will have the final say at the committee meeting next Monday.