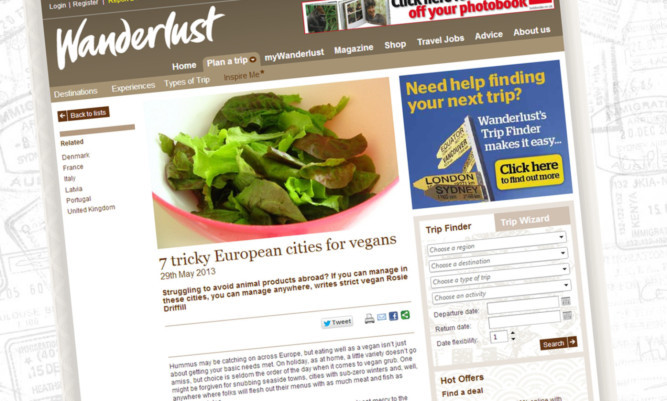 Vegan food in Dundee has been defended after a travel magazine named the city one of the worst places in Europe to eat out.
Strict vegan Rosie Driffill listed Dundee second in her article, 7 Tricky European Cities for Vegans, which was published on Wanderlust website.
However chefs, business owners and specialist food retailers have hit back.
In the article Rosie claimed: "To say Dundee was the worst town in Scotland for vegans would be unfair, but for its size, the range of options isn't great.
"Where stodgy meats and butter-soaked pastries are plentiful when winter creeps in, you'll be hard pressed to find a roasted vegetable wrap atop the bakery stands.
"Small cafes and takeaway stands won't have much in the way of vegan dishes, unless you're prepared to eat baked beans for the duration of your stay.
"And as for soya milk forget it. Unless you fancy being branded a hippy and chuckled at shrilly, stick to black coffee."
However Sandy Constable, who founded the Health Food Store in 1970, said vegan food was becoming more popular and the criticism is misplaced.
He said: "That's just nonsense. I have never come across anyone complaining about vegan food in Dundee. Most vegans can eat fruit and there are a whole range of salads, vegetable curries, pasta, bean and soup options.
"Around the 1970s and '80s Dundee was one of the only places that had a vegetarian community."
Head chef at the Parlour Cafe, Manu Castaldo, said there are a lot of options he can whip up for customers including curried lentils and chick peas, Moroccan couscous, vegan ratatouille and a range of salads.
He said: "It is not that we stick to vegan food all the time but we do have a reputation for vegetarian and vegan food. In our shop there is a demand for it.
"It is true there is not a very wide choice for vegetarians and vegans but Dundee is a small place and I don't know any other places with better vegan options."
In the article Rosie suggested the Alberta Guesthouse as a good base for a vegan venturing out into Dundee as it is run by vegetarians John and Hazel Duff.
Hazel said: "It must be tricky for vegans to eat anywhere but I won't have thought Dundee was the worst. I would think it is similar to most places.
"Being a vegetarian it used to be a nightmare eating out but now most places have vegetarian options."
After being contacted by The Courier, author Rosie Driffill apologised for any offence caused to the people of Dundee and said the article was written based on personal experience and anecdotal evidence.
She said: "The list on the website is not meant to be a naming and shaming device; rather, all the information is based on personal experience.
"Nor is the list supposed to be in any particular order the towns are not ranked, although it may appear this way."
She said the purpose of the article was to act as a guide for vegans visiting the city and it will now be updated.
A spokeswoman for Wanderlust said: "Rosie's article was a guest post for the Wanderlust website and purely based on her personal experiences in a broad range of cities she has travelled to across Europe.
"There is no 'worst' city and we were in no way discouraging people from visiting simply offering advice for those looking to visit."