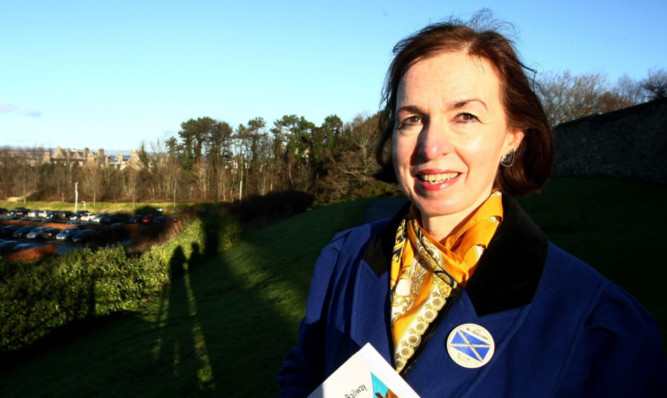 Ambitious plans to reinstate the rail line to St Andrews continue to have considerable grassroots support in the town, according to Starlink convener Jane Ann Liston.
The comment was made after it emerged St Andrews campaigners are to seek advice from Alloa rail campaigners successful in getting their town's rail link reinstated.
St Andrews Rail Link has been campaigning for 25 years for construction of a railway linking the popular destination and home of golf with the east coast main line, 46 years after the connection was axed by British Rail.
A study carried out two years ago by Tata Steel Projects identified an eight-kilometre route following the Eden Valley. An indicative timetable was produced, suggesting hourly services could be provided to Edinburgh and Dundee, taking one hour 19 minutes and 22 minutes respectively.
It was estimated it would cost at least £76 million to construct the railway and infrastructure.
Last year the St Andrews campaign was endorsed by transport expert Lord Faulkner of Worcester. Railfuture Scotland's vice-chairman, Roderick McDougall, a retired chartered engineer, included it in his list of 23 short branches he considers necessary to provide a fit-for-purpose Scottish rail network.
Various books on railways now refer to the campaign, such as the latest edition of David Henshaw's the Great Railway Conspiracy, which in Scotland includes only the Borders (due to open this September) and St Andrews lines among the top candidates for reopening.
Mr Henshaw summarises the case for St Andrews by stating: "There's a consensus that St Andrews should never have left the rail network in 1969…"
Ms Liston said: "From the number of ordinary St Andreans who raise the subject with me, I know that the desire to reconnect St Andrews with the rail network has grassroots support in the town.
"Useful discussions were held with Network Rail and Sestran last year and, together with the Royal Burgh of St Andrews Community Council, it is planned to liaise with representatives of other communities who have successfully retained or had restored their rail connections, to learn what the implications could be for St Andrews.
"All that is needed is the political will to make it happen, so the Starlink campaign will continue to reinforce the already strong case for the line to help bring this about."