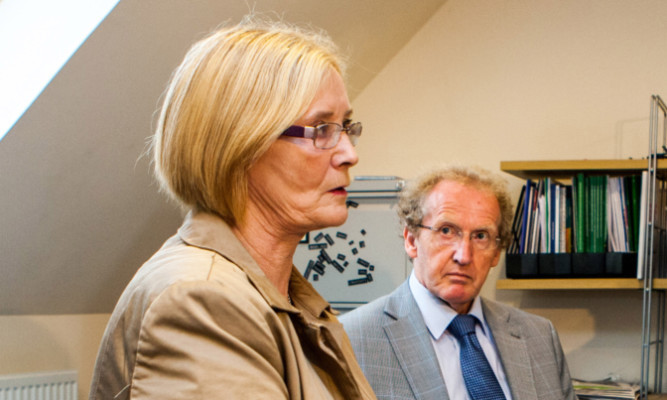 When Holyrood's Presiding Officer Tricia Marwick was diagnosed with bowel cancer in 2013 she spent the summer recovering from an operation to remove a tumour, just months after having her gallbladder taken out.
She later revealed the reason she did not talk about it publicly at the time was because she did not want to be in the chair at First Minister's Questions or a debate and find MSPs holding back because they felt sorry for her.
That is why only those closest to her knew she had cancer.
But now the Mid Fife and Glenrothes SNP MSP has revealed that one of those she did confide in about the extent of her illness was Glenrothes and Central Fife Labour MP Lindsay Roy.
As reported in Monday's Courier, Mr Roy has been diagnosed with Parkinson's disease and Ms Marwick now hopes to repay the support he gave her as he battles his own illness.
Ms Marwick said: "I was so sorry to hear from Lindsay that he has Parkinson's.
"I noticed a few months ago at a joint meeting he wasn't his usual self but the diagnosis came as a shock.
"I have no doubt that with the help of his medical regime and his vigour and tenacity he will still be a force to reckon with in the coming years."
Ms Marwick said she and Mr Roy had a "great relationship" as MSP and MP for the constituency they share.
She added: "It has been a relationship of mutual respect and our determination that, regardless of any political differences, our constituents always come first.
"This was best illustrated by our joint campaign to ensure the out-of-hours service in Glenrothes was retained, despite the best efforts of Fife Health Board to close it.
"I suspect that both Lindsay and I will look back on that campaign as the best thing we ever achieved in our political careers.
"Lindsay was one of the very few people I let know just how ill I was and he gave me his support and help as we planned and then won the campaign.
"I am proud to call him my friend. He was there for me when i was ill and I hope I can give him the same support now."
Mr Roy, 65, has announced he will be working full time in the constituency for the next few weeks but will not be travelling to London to attend the House of Commons while he undergoes treatment.