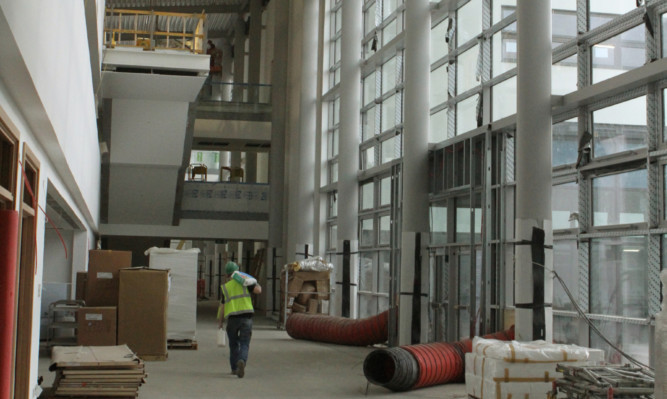 Two new Kirkcaldy schools will inspire generations to come, the man leading the project has claimed.
The Courier was granted exclusive access to the Windmill Community Campus in the town's east end as construction on the £25 million development enters its final phase.
Comprising a new Viewforth High, Rosslyn School for children with additional support needs, a library and council office, the project is the first of its kind in Fife, combining several council services in one location.
It is due to open in August and Paul Gallacher, project manager, said the campus will transform the local area.
"My kids went to the old Viewforth so I have a personal interest in this," he said.
"When you look at old school buildings like Dunfermline High, Auchmuty and now Viewforth, they had served their time and then some.
"We have had that investment and we now have these buildings that will stand for the next 40 to 50 years.
"Who is not going to be inspired by this?"
Around 160 construction workers remain on site, with the building scheduled for completion by June 24.
As well as educating over 600 school pupils, the campus will also house the area's local library while in the evening, community use sports pitches will be made available for the public.
With a major housing development planned at Kingdom Park, on the town's northern edge, the capacity of the new Viewforth High can be expanded to accommodate around 1,000 students.
Asked what aspect of the project excited him most, Mr Gallacher said: "The biggest part for me is the Rosslyn Garden.
"It will be a magical place to serve the kids that need it and sets the whole area off."