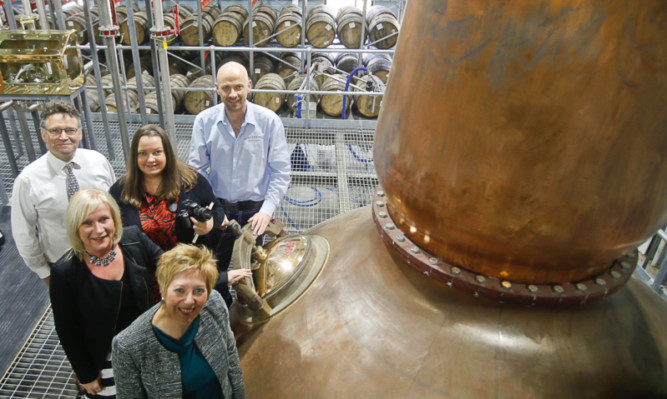 Famous Fifers have become ambassadors for the kingdom.
Accepting the role, British Touring car star Gordon Shedden, chef Christopher Trotter, Doug Clement from Kingsbarns Distillery and Nicola Holland, the brains behind FunkyEllas travel blogs, have been divulging what they love about Fife.
They are the first in what Fife Council plans to be a network of ambassadors inspirational people who represent Fife's many faces, share a passion for the kingdom and can promote the area, where tourism is worth £313 million annually, to national and international audiences.
The arrival of Kingsbarns Distillery officially married two of Scotland's finest exports, golf and whisky.
Doug has an inspiring story to tell. While working as a golf caddie, it was his vision that first inspired the idea for a distillery.
His determined belief in the project has been instrumental in bringing dreams to drams.
He said: "I hope that as a Fife ambassador I will be able to inspire others to follow their business dreams and turn them into realities.
"My venture here at Kingsbarns I think is testament to the fact that with a good idea, hard work, resilience and a great team of people around you anything is possible."
Knockhill Racing Circuit has been Scotland's national motorsport centre for 40 years.
As well as being its corporate business development manager, Gordon is Scotland's most successful British Touring Car driver.
The Works Honda pilot is one of only three Scots to have won the prestigious championship, alongside legendary fellow Fifer Jim Clark and John Cleland.
"Growing up in Dunfermline and living only five miles from Knockhill, was a huge boost to my racing career," he said.
"Being a Fife ambassador is a great honour to help make people aware just how much the kingdom has to offer."
Christopher has always been passionate about the region.
Trained at the Savoy, he's worked in a number of Michelin-starred restaurants.
As a chef and cookery writer, he divides his time between running cookery classes in Scotland, food tours around the country and writing.
He said: "My passion for Fife food stems from the fact that we have everything here from fish to herbs, shellfish to game, soft fruit and vegetables to cheese. Fife is a microcosm of Scotland as a whole and the quality is unbeatable.
"It's an honour to be an ambassador for Fife as it's Scotland's great secret."
Nicola Holland, travel blogger and photographer of FunkyEllas Travel, said: "Having spent my life in Fife I'm thrilled that Fife is now becoming more prominent on the tourist map. The more I travel around Fife, meeting food and drink producers, business owners and the people involved in promoting Fife as a destination, the more proud I become. These people are passionate and excited and it's infectious.
"I'm honoured to be named as a Fife ambassador and hope to help showcase this beautiful corner of Scotland."
Fife depute leader Lesley Laird said: "Ambassadors perform a valuable role in promoting the region and we're delighted to have such inspirational people on board.
"We have so much to shout about in Fife and through sharing this passion for the kingdom, our ambassadors are offering to lend their support to our efforts to increase Fife's reputation and profile."