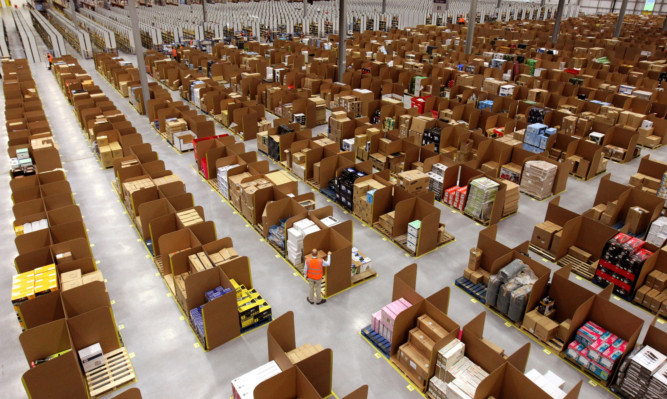 The First Minister said there would be no attempt to claw back subsidies given to Amazon in light of its latest tax bombshell.
The Scottish Green party said Amazon should repay £10 million of Scottish Government grants distributed mainly for its Dunfermline centre after coming under fire again for its UK tax arrangements.
Figures showed the global online retailer raked in more than £4 billion in the last financial year yet paid only £2.4 million in corporation tax.
In fact the firm which in 2011 opened its largest UK fulfilment centre in Fife was said to have received more in government grants than it actually paid back into the Treasury.
Now the Scottish Green party's MSPs are urging the Scottish Government to recall its grant funding of Amazon UK following news of its miniscule tax rate.
However, a spokesman for Alex Salmond said there would be no attempt to claim back money given to Amazon in subsidies.
He added: "The Scottish Government believes that all companies operating in Scotland should meet their taxation obligations.
"If there are concerns about any individual company and the tax paid that question should really be directed at the UK Government, which currently controls the corporation tax system in Scotland."
Green MSP Alison Johnstone condemned the retail giant, saying it had no intention of being fair when it came to paying tax, but was happy to take public funds.
A briefing provided to MSPs visiting Amazon's Dunfermline centre earlier this year showed that the Scottish Government has offered up to £10.6m to the company in funding.
The Dunfermline site, a new customer service centre in Edinburgh and the creation of 200 new posts at its Gourock fulfilment centre were backed by £4.3m of Scottish Enterprise RSA and training awards.
Funding of up to £6.3m was also made available to support the construction of the Dunfermline building through the SE Scottish property support scheme.
Ms Johnstone said: "Amazon clearly have absolutely no intention of playing fair when paying tax but are happy to take millions from the public purse in Scotland.
"The latest revelations should prompt the Scottish Government to urgently end its handouts and demand a complete refund.
"It is quite incredible that Scottish Ministers still think that writing big cheques to Amazon is a good use of public money. That lost tax income and grant funding could completely transform the small business sector, providing secure jobs to more people."