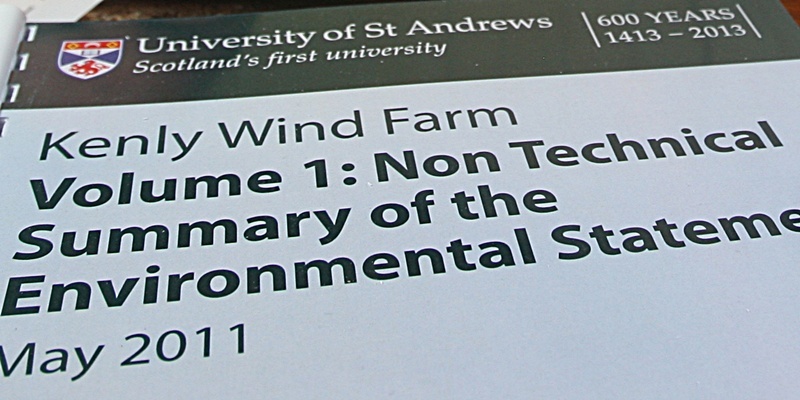 Plans by St Andrews University to construct wind turbines on the outskirts of the town are facing growing opposition from locals.
Residents from Boarhills, Dunino and Kingsbarns have united to protest at proposals by the institution to construct six turbines at Upper Kenly Farm.
A Kenly Landscape Protection Group (KLPG) has been formed. Members claim the turbines would "industrialise" the landscape and detract from the setting of the villages, and believe the number goes against guidelines set out by Fife Council.
John Goodwin, a Boarhills resident and spokesman for KLPG, told The Courier: "Opposition is growing to the university's application. Turbines of this scale have a massive visual impact over a huge area on residents and visitors alike and the impact on Fife's biggest industry tourism cannot be ignored.
"Golf brings thousands to Fife. The turbines could be seen over St Andrews from the Links and from other courses in the area, completely altering the amenity and the visitor experience.
"We are intent on making the local inhabitants of St Andrews and nearby villages more aware of the magnitude of this scheme and the damage it would inflict on east Fife."
Each proposed turbine would be 100ft high, with the site sitting around four miles outside of St Andrews itself.
Although campaigners believe the turbines could impact on the St Andrews skyline, the university rejects this.
Scottish Natural Heritage has withdrawn an objection to the planning application, having originally shared the views of KLPG members.
A university spokesman said, "We welcome all views and are very grateful for the support and encouragement we have received from many individuals in the community so far.
"However, the claims made about the visibility of the proposed turbines from St Andrews are simply not true.
"At the very most, the extreme tip of one blade on one of the turbines may be visible from the far end of the beach on a very clear day."