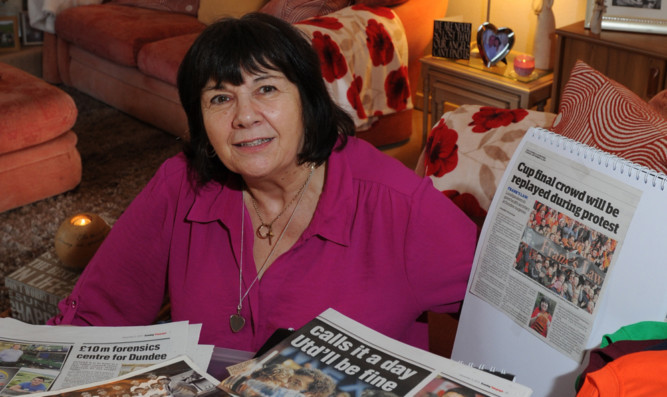 The first steps have been taken on the road to Frank's Law.
Scottish Government ministers will today offer councils £6 million to raise the threshold at which people begin to pay for care at home.
Health Secretary Shona Robison admitted there is still a long way to go before Amanda Kopel's campaign to close the loophole which sees under-65s pay for crucial services which older people receive for free comes to fruition.
But the Dundee City East MSP signalled a statement of intent with her offer to authorities as she praised the Kirriemuir woman's quest for a fair care system.
She said: "Over the last year, the Frank's Law campaign has raised some very important issues and has opened up the debate about fairer charging for social care in Scotland.
"I want to pay tribute to Amanda Kopel, The Courier and their fellow campaigners, for their efforts in taking this campaign forward and we have been listening very closely to what they have had to say.
"That is why I'm pleased to be able to say today that we are putting forward an offer to local authorities that would help many of those on the lowest incomes pay no charges.
"This would benefit more than 13,000 people who will pay a smaller contribution towards the cost of their care and around 900 people who will be taken out of charging altogether.
"As part of the quarter of a billion pounds of additional funding for social care announced for next year's budget, we have made this offer to Cosla as a first step towards making charging fairer.
"We are taking an anti-poverty approach by prioritising support for those on low incomes first."
The threshold changes mean people on low incomes who currently pay for services such as personal care, equipment like community alarms, or help with laundry and meals, may have their bills reduced or paid for entirely.
Based on the number of hours of home care provided, officials estimate those who will benefit breaks down into roughly one third of adults under 65, and two thirds aged 65 or over.
Ms Robison added: "We will continue to work with our local authority partners, as well as Amanda Kopel and her fellow campaigners, to look at what more can be done to ensure equitable access to high-quality social care."'Do not let us have to wait any longer'The Courier gave its backing to the campaign for Frank's Law a year ago today.Here, Amanda Kopel looks back on the past 12 months with Courier reporter Graeme Strachan.She tells him that failing toimplement Frank's Law would be letting down everyone under the age of 65 in Scotland.
Amanda Kopel, 65, watched her childhood sweetheart, best friend and soulmate wither in his prime when he was diagnosed with dementia at the age of 59.
She and her husband paid about £300 a week so he could have personal care in his Kirriemuir home because he did not reach thequalifying age of 65 for free services until weeks before his death.
Mrs Kopel started the campaign to close the loophole and said the public's support has touched her heart and soul.
She said: "When I began thecampaign I didn't want any praise,accolades or awards I was justtrying to help Frankie and others who did not have a voice.
"I also know that there are so many other people who have walked in my shoes who would have fought the same battle for their loved ones as I have done.
"I also know that if the shoe had been on the other foot that my soulmate Frankie would have been fighting in my corner.
"No one is immune from heartache on this journey we call life and until that dreadful disease came to our door, neither Frankie nor myself realised the age discrimination that existed for the under-65s."
Mrs Kopel said she was absolutely delighted when The Courier gave its backing to the campaign a yearago and called on the ScottishGovernment to introduce Frank's Law.
She said: "The Courier recognises that this campaign affects every single person under the age of 65 in Scotland, who may be struck down in the future by disability, illness or a terminal disease.
"In August I wrote to 129 MSPs and the personal and positive replies I received from various cross-party MSPs certainly filled me with hope for the future.
"During the year I was also invited to address Angus, Dundee, Fife, Perth and Kinross and Aberdeenshire councils who all voted in support of Frank's Law and wrote to the First Minister.
"In September I had my second meeting with the health secretary at her Dundee office when friends organised a demonstration for the campaign.
"She said they were working on all possibilities and that she was very hopeful that Frank's Law would be introduced but it would not happen overnight.
"There have been small steps of progress taken since the campaign started but at a snail's pace andgiant steps need to be taken in order that justice, fairness and equality is restored to the people of Scotland."
The Scottish Government, in partnership with Cosla, has already ensured no-one in the last six months of a terminal illness is charged for care they receive at home.
However, Mrs Kopel said that is "insulting" and "insensitive" as "no one can accurately predict that aperson is going to die within six months".
She admits it is a vital year for the campaign with a decision likely to be given by the health secretary before May's election.
Mrs Kopel added: "How many more people under the age of 65, who were assessed as needing personal care, have gone to the grave paying for that personal care and knowing they were being blatantlydiscriminated against?
"It is a disgraceful state of affairs that is happening even now. Even though I started thecampaign, I will not make the final decision to introduce Frank's Law.
"That decision lies ultimately inthe hands of the ScottishGovernment. For the sake of every personunder the age of 65 in Scotland, please do not let us have to wait any longer."