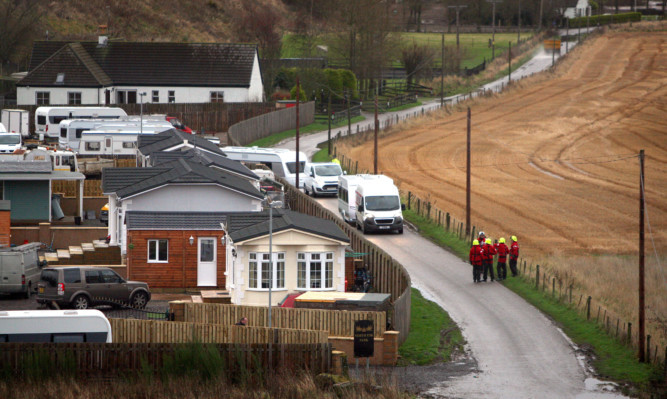 Sepa has rejected a report which claims that the unauthorised Travellers' site in St Cyrus does not lie on a flood plain.
North Esk Investments Ltd has made a new attempt for retrospective planning permission for the vast North Esk Park site.
It commissioned a new report on the flood risks of the site by consultants SLR last year, which said previous predictions about flooding at the site had been overstated.
However, Sepa has disputed these findings and is continuing to object to the application for a 10-stance caravan park and touring site for Travellers.
Their response to the application states: "We continue to object in principle to this planning application on the grounds that it may place buildings and persons at flood risk.
"We consider that the proposed development is located within the undeveloped/sparsely developed functional floodplain.
"Scottish planning policy indicates within the Flood Risk Framework that new camping sites should not be located in medium to high flood risk areas (within 1:200 year envelope).
"We do not consider that the planning application meets with the requirements of Scottish planning policy and our position is unlikely to change.
"We have a shared duty with Scottish ministers and other responsible authorities under the Flood Risk Management (Scotland) Act 2009 to reduce overall flood risk and promote sustainable flood risk management."
It notes that SLR's flood risk assessment was completed before flooding events at the site on December 30 last year and claims that it underestimates the flood risk.
The SLR report refers to a flood of the River North Esk in November 2002 as a one in 50 year event, whereas the Sepa analysis determines this to be a one in 20 year occurrence.
The Sepa document adds: "The cornerstone of sustainable flood risk management is the avoidance of flood risk in the first instance."
Meanwhile Aberdeenshire Council's flooding and coast protection team is also disputing SLR's claim that the site does not lie a functional flood plain.
It states that the development proposals do not comply with Scottish planning policy and that the "proposals will result in significant risk to lives and property".
The council team concludes that in extreme flood events, the site's access road would reach depths which would be unsuitable for emergency vehicles.
Aberdeenshire Council's environmental health department is also now not supporting the application as insufficient information has been provided about the site's private water supply.
An attempt for retrospective planning permission to be granted last year was refused.