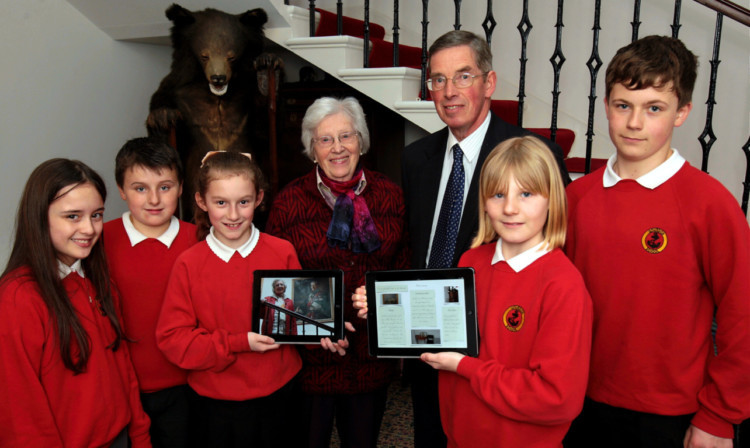 A 13th century Mearns ancestral home is making its way into the 21st century with the launch of a digital guide.
Arbuthnott House has been the seat of the Arbuthnott family since around 1242, when the third Laird Hugh started building work.
The house has been significantly restored by its present master, Christopher, and Gourdon School children undertook a project to help visitors find their way around more than 750 years of history.
At its launch, class teacher Kerry Young said her pupils had "a great time" learning about the history of the Mearns and a family which has played a key role in the area's development.
"We were donated an iPad recently and used an app to put together this guide with information, pictures and videos," she said.
"The kids filmed the videos, took pictures and wrote the text.
"The book starts off in the vestibule, where it tells you about the family history, with more pages as you walk through the corridor and see a large, stuffed bear or the dinner gong.
"There's also little activities for the kids to do, like can you find an octagonal shape, or where they can look at the ceiling, and the app tells you a bit about the person who crafted it."
A representative of the Arbuthnott Estate said it was exciting to see the children help open a window on to the area's rich history.
But since the house is occupied, visitors only have 10 days in which to visit this year May 9 and the week of June 1 to 9.
The 17th Viscount, John Keith Oxley Arbuthnott, began the first full-scale renovation of the house in more than 250 years in 2010. A year ago the school began to research the rooms that are open to the public.
The P6/7 class visited the house, took notes of items which interested them and spent a lot of time researching their use and history.
As the P7 pupils moved on to S1 at Mackie Academy, Stonehaven, in August, the project continued with the current P6/7 class. Miss Young said the family have been keen to help shed as much light on the house and their past as possible.
"We've got video from Mrs (Christy) Bing, who is Lord Arbuthnott's auntie, and from the lord himself who does an introduction, and one with young Mrs Arbuthnott," she added.
"Aberdeen University have also been a great help. They gave us filming equipment to use and they took the kids up to see artefacts and look at the history side, along with how to use the technology."
For more information on the house and how to book tours, visit www.arbuthnott.co.uk.