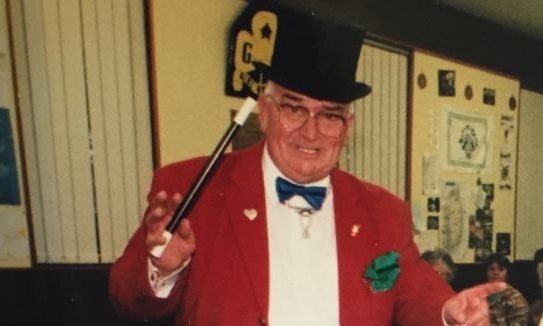 Much-loved magician John Fox, from Carnoustie, has died at the age of 86.
Mr Fox, known as Magical Mac, was well known in the Angus area for his tricks which he performed routinely for friends and family.
He formerly worked as a plant operator at JBM Maltings, which malted barley for the production of whisky in Carnoustie.
He retired in 1994, shortly after losing his wife Peggy, and went on to become Magical Mac.
His niece June Ross said: "He had been interested in magic since he was a young lad.
"As a wee boy he got some magic things for Christmas.
"When he retired he bumped into a friend who was a magician and that's how he got involved again."
Mr Fox also performed all over Fife and Tayside.
He was a past president of the Dundee Magic Circle, and was also involved in a number of other magic groups both UK and international.
His daughter Shona said: "He had an outgoing personality.
"Wherever he went he always had a magic trick in his pocket. Stewart, John's grandson, said he would make a 50p appear from behind his ear."
His other interests included golf and the local dramatic club, and he also appeared as an extra in a 1995 TV episode of Taggart.
Mr Fox was heavily involved in the local Scouting movement as well as the Boys' Brigade from 1936.
He also did a lot of charity work, particularly for the Maggie's Centre as well as the Coronary Care Unit in Ninewells Hospital where he passed away last Monday.
Mr Fox is survived by his daughter Shona Martin, grandson Stewart and many nieces and nephews. His funeral will be held at Dundee Crematorium at 9.30am on Wednesday.
Family flowers are requested only, but donations towards the coronary care unit, which cared for Mr Fox towards the end, would be welcome.