Two Mearns fishermen feared dead at sea told how they never gave up hope of being found alive.
Jim Reid, 75, and his grandson David Irvine, 35, of Inverbervie, sipped from a flask of tea and nibbled on two biscuits over two nights in the North Sea.
"We had no idea where we were and because of the fog we were completely lost," said Jim.
"But even after two nights at sea we never gave up hope of being found."
Jim said their concern for each other was what kept them going when things got tough. They failed to return to Gourdon harbour on Tuesday when they lost their way in fog about half a mile off shore.
Their 16ft creel boat, the Water Rail, ran off course when their compass stopped working. They were found at sea on Thursday morning by a passing fishing vessel 46 miles off the coast of Arbroath.
The Buckie-registered Sylvia Bowers picked them up before they were taken ashore by the Montrose lifeboat. A relieved Jim and David spoke to the media at Montrose Police Station after being reunited with their loved ones.
The 75-year-old grandfather said the broken compass had sent them in the wrong direction from the outset and they quickly got lost.
He said: "We trusted the compass completely, but we couldn't see the land.
"After seven hours we realised we were in trouble. We had a small engine on the boat and ran it at night to keep us warm.
"We had two flares, which we fired off on our first night. We could see ships passing in the distance but they were too far away to see us.
"When help didn't come we just had to keep going and try to conserve fuel. We had two litres of fuel left and just had to sit and hope somebody found us."
Jim said the fishing vessel passing them was "the best thing in the world".
"I just about walked to it," he said.
Grandson David added: "It was just relief shock really. It was unbelievable because we'd seen so many ships that we couldn't reach."
David had forgotten his mobile phone when the pair set off in the early hours of Tuesday.
The pair had lifebelts and flares with them and managed to survive for two days on a bottle of water, a flask of tea and two biscuits.
David, who is a supervisor in the local Scotmid store, said: "I would normally take my phone, but I just grabbed my keys and went out the door.
"I thought I had it, but by the time I realised I didn't it was too late."
A massive air and sea search was launched around noon on Tuesday when their creel boat was reported two hours late returning to Gourdon.
Hope appeared to be dwindling as local boats helped emergency services scour the sea, but there was no sign of the missing men.
The safe discovery of the pair by the Buckie-registered Sylvia Bowers yesterday sparked an outpouring of joy from those who had been praying for their safe return.
Jim, who worked for Oil Technics Ltd in Gourdon before retiring, said it was the first time he's got into difficulties in a lifetime spent sailing and fishing.
Jim joked that his grandson had lost two stone in weight since he set out on Tuesday. Both men said they would go back out fishing again despite what happened.
Asked what he would be having for dinner, Jim said: "Well it won't be fish."
The pair thanked everyone who was involved in the search and rescue operation. Although Jim and David were last night back on dry land, their fishing boat didn't make it back to the shore.
Despite lasting for two days in the North Sea, it sunk as it was being towed back by the Montrose lifeboat.
Additional reporting by Martin Dalziel
For more on this story see The Courier or try our digital edition.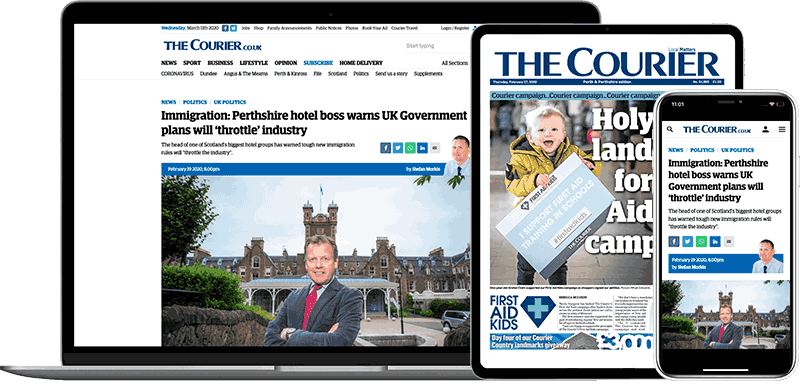 Help support quality local journalism … become a digital subscriber to The Courier
For as little as £5.99 a month you can access all of our content, including Premium articles.
Subscribe