 Public awareness of the appalling offending behaviour of Jimmy Savile may have led to a steep rise in child protection referrals in Angus.
An Angus council report stated the number of child protection investigations leapt from 312 in 2012-13 to 444 in 2013-14, with child protection case conferences almost doubling in the corresponding period, from 90 to 176.
As of July 31 last year there were 117 children on the protection register, compared to 94 at the same time 12 months previously.
Delivered by strategic director of people Margo Williamson, the People Directorate annual evaluation report stated the number of child protection referrals and registrations has increased significantly.
It reported: "This possibly reflects an increase in awareness of child protection through partner agencies, following training delivered at a local level to professionals within these partner agencies.
"It may also reflect the high-profile nature of some of the sexual abuse cases over recent times, which has highlighted to the public the importance of speaking up and raising their concerns."
"Further planned work will be undertaken through case file review sampling to ensure there have not been missed opportunities at an earlier stage to intervene positively in children's lives."
Operation Yewtree, an investigation led by the Metropolitan Police and National Society for the Prevention of Cruelty to Children, launched in 2012 and resulted in a flood of allegations against DJ and children's entertainer Savile.
Witnesses also came forward to make allegations unconnected to Savile's behaviour against other famous names. Investigations led to court appearances and convictions against well-known people including artist and entertainer Rolf Harris and publicist Max Clifford.
Currently, there are more than a dozen high-profile investigations ongoing in the UK, many national and wide-ranging, to say nothing of the many more being carried out by authorities at a more local level.
Among them are the Greater Manchester Police inquiry into claims of a cover-up involving historical child abuse at Knowl View School in Rochdale; the Pallial and Waterhouse inquiries into allegations of historical abuse at children's homes in North Wales; and the Jersey Care inquiry into historical abuse claims from 1960 to the present day.
In Scotland, a statutory public inquiry has been set up by the Scottish Government to examine historical cases of abuse of children in care. In Angus, there were 176 children placed on the register in 2013-14, compared to 132 the previous years and 102 the year before that. For those same periods the numbers of children de-registered were 153, 97 and 111 respectively.
Assurances were given in the report that the high quality of child protection work within the people directorate has been maintained. This is evidenced through the strong commitment to providing an immediate response when concerns are raised and ensuring that appropriate support and ongoing monitoring is timeously provided to ensure the safety of children involved.
All child protection referrals were screened and responded to within 24 hours in 2013-14. All initial child protection case conferences were held within 21 days and all children on the child protection register were visited at home on a fortnightly basis, unless there were specific reasons not to.
At the same time, the numbers of looked after children have increased in Angus.
Children in care, or looked-after children, are children who have become the responsibility of the local authority. This can happen voluntarily by parents struggling to cope or through an intervention by children's services because a child is at risk of significant harm.
There were 270 looked-after children in the county, as at July 31 last year. This compares to 254 in 2012-13 and 259 in 2011-12. Latest figures showed that the greatest number, 112 children, were placed with Angus foster carers, but the biggest increase came among those who were still living at home with their parents 86 in 2013-14, as opposed to 68 the year before and 76 the year prior to that.
In her report the director said that (as of March 2014), 92% of Angus looked-after children were in community placements, placing the council in the top quartile of Scottish local authorities. Last year the council placed 95% of the area's looked- after children with the Angus boundary.
She said: "Even if children cannot live at home or within their communities, through remaining in Angus they have better opportunities to stay in touch with their families, friends and community networks."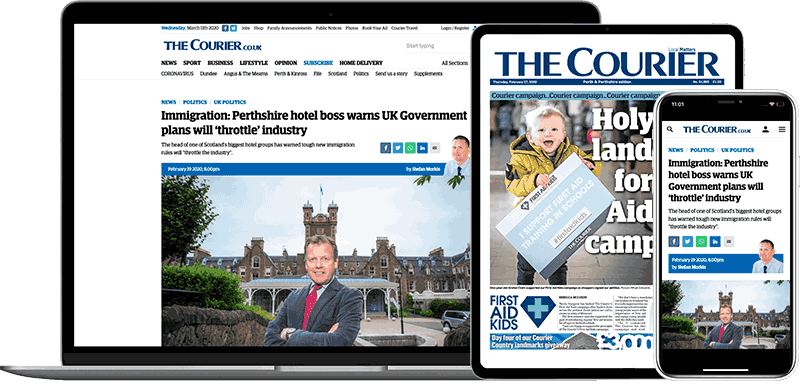 Help support quality local journalism … become a digital subscriber to The Courier
For as little as £5.99 a month you can access all of our content, including Premium articles.
Subscribe