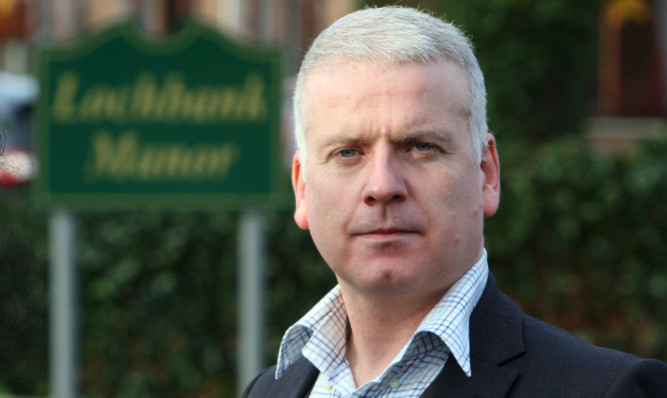 Watchdogs have found an Angus care home failed to ensure adequate care for an 85-year-old woman with Parkinson's disease.
Daily records completed by staff at Lochbank Manor in Forfar were also found to be "unsatisfactory" by the Care Inspectorate.
The Courier has obtained copies of paperwork showing that the pensioner was left unattended and unassisted for 15 hours.
A further complaint staff at the home had used a stand aid to assist in transferring the woman without prior risk assessment was also upheld.
The complaints were made by the woman's son, Colin Smith, who gave up his job to become her full-time carer in 2011 after her diagnosis.
In March 2014 she was moved to Lochbank Manor and Mr Smith, from Forfar, said everything seemed OK to begin with before problems began to arise in June this year.
He raised concerns about her medication, her diet, toilet issues and the competence of management and staff but did not feel it was "taken seriously".
He raised a complaint with the Care Inspectorate in September after claiming to have found his mother alone in her room and "very upset".
The Care Inspectorate investigation found that Mr Smith's mother's continence needs had not been assessed since September the previous year.
A complaint inspector who visited in October also found the risk assessment for using the stand aid was signed and dated five days after it had been used.
The inspector also found several examples of inadequate and unsatisfactory record keeping and there was evidence of inadequate completion of bowel records and gaps of up to six days in the recording of oral care.
Following the investigation the Care Inspectorate has now made a requirement for the care home to demonstrate it has systems in place to ensure "the needs of the individual resident are regularly assessed, monitored and adequately met".
In June this year, inspectors warned the Graham Crescent home to tighten up its infection control procedures.
Lochbank Manor, which is now for sale through Christie's as a freehold for £1.6 million, cares for a maximum of 40 older people, providing 24-hour residential and nursing care.
The provider of the service is RDS Healthcare, which has a small number of similar services in the north of Scotland.
Our inquiries to the care home were directed to Rockhaven Healthcare, acting on behalf of RDS, but no response was received.