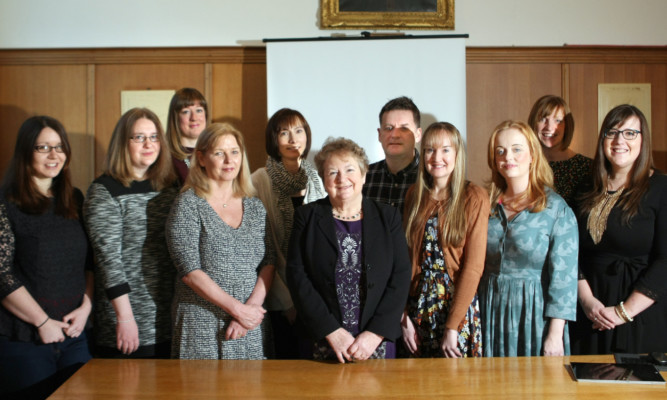 A group of council employees are going back to school to retrain as teachers in a bid to relieve the local authority's recruitment problems.
Angus struggled to employ as many new teachers as it required last summer.
Local authorities have been required to maintain teacher numbers to receive grant payments from the Scottish Government and this has led to demand outstripping supply.
An attempt to create a pool of supply teachers in Angus last summer was unsuccessful.
Last month the council said it had three primary school vacancies as well as 16 vacancies at secondary level.
One of the ways the council is seeking to address this problem is to help some of its current staff gain the skills and qualifications to become teachers themselves.
A group of 10 people from a wide range of roles across the council have been selected to take part in the distance learning Post Graduate Diploma in Primary Education, which will run over 18 months.
This scheme will run in partnership with Dundee and Aberdeen universities and the staff will continue in their current roles while they are undertaking the training.
At the official launch at Monifieth Library on Saturday, Councillor Sheena Welsh, convener of the council's children and learning committee, said: "This is an innovative pathway to becoming a primary school teacher in Angus.
"We are fully committed to helping our employees to grow and learn and to develop flexible pathways into teaching.
"This will be a challenging route for each of the successful candidates. We look forward to providing them with all the support they need to successfully complete the programmes and begin a new career in teaching with us in Angus Council."
Each of the students will be paired with an experienced headteacher at an Angus primary who will act as a mentor.
Jan Hughes, the headteacher of Liff Primary, said: "These are people who already have professional backgrounds with the council and come with a wealth of experience.
"Their maturity means they can bring a lot to our schools in Angus."
The launch was also attended by Margo Williamson, strategic director of people, and senior officers from the council's schools and learning team.
Karen McGlone, who is one of the participants, said she was "excited" to start her training.
She said: "Teacher training is something I would never have been able to consider financially. The opportunity to be able to work and study flexibly is fantastic."