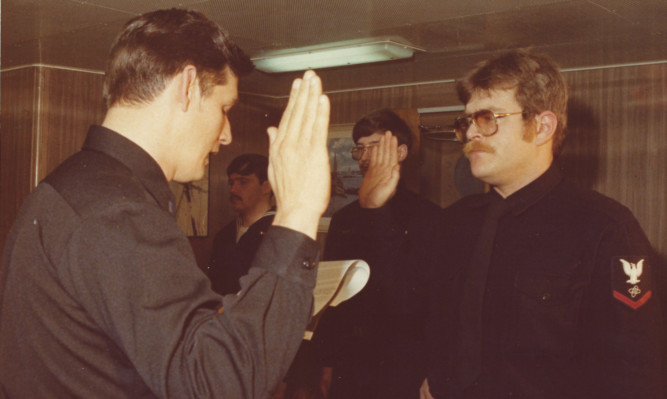 The last US serviceman to retire from RAF Edzell visited his own gravestone before his death.
John Brull, who died aged 59 and is being laid to rest on Wednesday, began making arrangements for his own funeral after being diagnosed with pancreatic cancer in September.
Mr Brull purchased a plot at Edzell Churchyard and picked a headstone from Brechin sculptor and stonemason Tom Church which was erected before his death.
He filmed himself beside the gravestone in the burial grounds so his family in America could see where he had chosen to be his final resting place.
"He was very prepared for his death and wanted to save me the pressure of the final arrangements," said Mr Brull's wife Shirley.
"John was planning on retiring when he turned 60. His diagnosis came as quite a shock, but he was an inspiration to all of us.
"I knew him 35 years and we were married for 33 years and I love him as much today as I did all those years ago."
Born in Long Island, New York, Mr Brull joined the US Navy in 1977 where he spent 20 years as an electronics technician.
He was responsible for maintaining and repairing US military proprietary systems, and met Shirley when he was posted to a US submarine refit facility on Holy Loch in Dunoon in 1980.
They were married in New York in 1982 and stayed in America until Mr Brull was posted back to Scotland to the US Navy base at Caithness in 1988.
The base closed in 1992 and Mr Brull was posted to RAF Edzell until its deactivation and closure in 1997.
Mr Brull retired in February 1997 and holds the distinction of being the last US serviceman to retire from the last US base in Scotland.
RAF Edzell was home to US intelligence officers throughout the Cold War, but the Americans moved out after the collapse of the Soviet Union.
The couple remained in Edzell and Mr Brull worked in the oil and gas IT and telecoms industry before taking ill.
His terminal diagnosis was made after he underwent a CAT scan following complaints of a sore back and jaundice.
Shirley said: "He was planning to retire at 60 and buy a holiday home where we would spend weekends on the west coast. His big aim was to make Christmas and see 2015. He managed six more months with us.
"He was a loving dad and husband and he loved this country and he loved Edzell he might have been born in America, but this was his home."
He was a member of Edzell Drama Group and away from work he also enjoyed playing war games on his computer and was taking up golf.
Mr Brull is also survived by his daughters Lisa and Sara.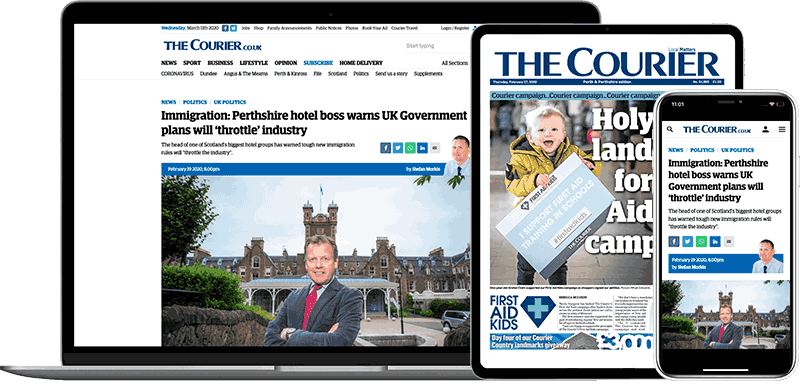 Help support quality local journalism … become a digital subscriber to The Courier
For as little as £5.99 a month you can access all of our content, including Premium articles.
Subscribe