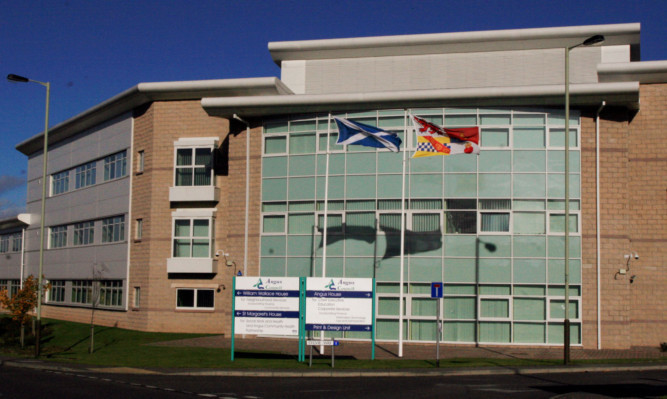 Angus Council jobs and services will be under threat if they are not transferred to a trust, the local authority has warned.
It is pressing ahead with plans to put libraries and sports centres in the hands of a new trust but the council's largest union, Unison, has expressed concerns about proposals to transfer 520 council staff to new contracts with an "arm's-length" body.
All affected employees were informed of changes to the county's leisure and culture departments at several large-scale meetings.
Angus Council says reduced opening hours and job losses will come if the move is not completed soon.
It warned: "If this route is not followed, both services and jobs will be under threat".
Councils throughout Scotland including neighbouring Dundee City and Perth and Kinross run leisure centres, libraries and museums under similar arrangements to save money but Unison said promised savings "tend not to materialise" in many cases.
Its Scottish secretary Mike Kirby said: "Unison is not convinced that farming out leisure facilities to arm's-length trusts improves the service for the public or the staff.
"They are not an alternative means of community ownership of public assets. In fact the policy tends to be used to save local authorities tax.
"Our experience so far is some trusts perform satisfactorily after the initial separation but the promised savings, extra funding and other benefits tend not to materialise.
"There is no evidence the public see an improvement in the service nor will the trust see a higher rate of private donations, which are often the reasons put forward."
An Angus Council spokeswoman said unions have been involved on the project board overseeing the formulation of proposals, seeing documents and communications to staff before they are issued.
"Opening hours would be impacted as a result of budget pressures and not as a result of any move to a trust," she said.
"If this route is not followed, both services and jobs will be under threat.
"There is real evidence from councils across Scotland that a move to charitable trust status will benefit services, customers and staff.
"The majority of councils have already transferred culture and leisure services to trusts.
"As with other councils, budgets are under pressure and a transfer such as this saves money, protects public services and protects jobs.
"Our customers will not be affected the public service they get will be exactly the same as under the council."
The Courier received contact speculating the new arrangement would lead to reduced opening hours across the museum and library estate.
Unions said it is "too early" to say if the changes will cause any job losses or closures of facilities but asked non-members to get in touch before moves are set in stone.
A Unison spokesman said: "Unison will of course be working on behalf of our members and we would advise all those who may be affected to join Unison to ensure they can get the support they need."
For the GMB union, organiser John Begley said some of his members will be affected by discussions but added none had come to him with any concerns.
The new model would follow the example of Leisure and Culture Dundee and was the subject of a green paper private item at the latest meeting of the full Angus Council.
Leisure and Culture Dundee, a charitable trust, officially took over the running of some of the city's top attractions, including the McManus Galleries and the Caird Hall, in 2011.
It created a legal entity that is able to enter into contracts, employ staff and own property, while providing charity trustees with protection against personal liability.