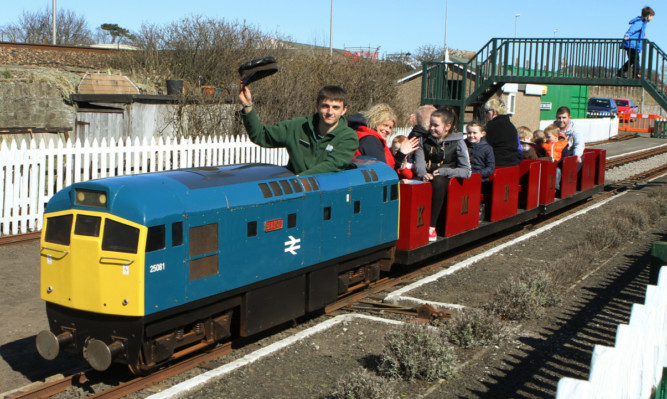 Plans to extend Scotland's oldest miniature railway have hit the buffers as it opens for its 78th season.
John Kerr, 17, operator of Kerr's Miniature Railway in Arbroath, voiced disappointment at the stuttering progress of a proposal to add extra length to the route.
The attraction opened at the weekend and has enjoyed a solid start to the Easter holidays however Mr Kerr remains concerned over the future of the business.
He said: "A lot of work has gone into it, but progress has been every so slow and we still don't have planning permission.
"The application has not gone in, mainly because the council say it's not adequate yet. The planning department are being quite sticky, which is making it difficult, but I would rather get it right so we don't have to go back a second time.
"We are now getting to a stage where we have been stuck for months and we need to get something sorted."
The track has remained roughly the same since it opened in 1935 and, if approved, an upgrade would complement a recent £500,000 revamp of the nearby West Links play area.
However, Mr Kerr said the replacement of the old play park in favour of the new play area seemed to have had a detrimental impact on the railway's footfall.
The extension proposal is aimed at boosting visitor numbers and seeks to double the length of the route, pushing further north into the town to stop near the crazy golf area.
A team of enthusiasts, and Mr Kerr's mother Jill, help run the railway each year. While the track has remained the same, times have changed since 1935 when fares were 3d per adult and 2d for children.
A CCTV system has been installed to guard against potential vandalism and prices are now set at £1.50 and £1 respectively. The railway was an instant hit when it first opened and carried 11,350 passengers in its first season.
Numbers declined during the 1960s and 1970s, but its popularity rekindled and in 2001 it was awarded a four-star grading from the Scottish Tourist Board.
A full timetable and opening times are available at kerrsminiaturerailway.co.uk.