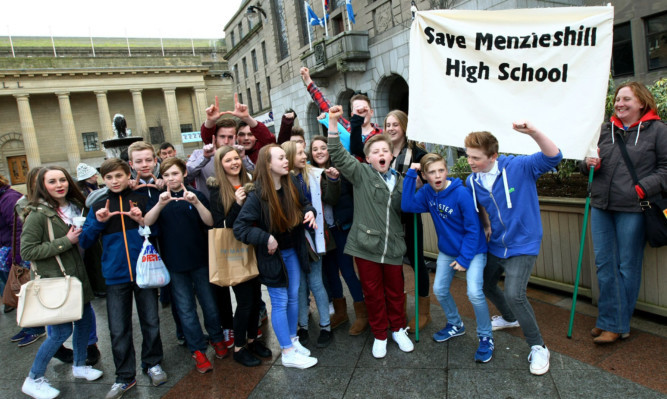 Dundee's elected leaders have voted to retain an alcohol allowance worth thousands of pounds as a direct alternative to keeping a senior teacher in her job.
The SNP administration forced through £3.5 million of budget cuts, which included removing a "crucial" teaching post from the Menzieshill Young Mum's Unit (YMU).
More than 1,000 people had signed a petition urging the council to save the principal teacher post at the unit, which helps teenage mothers stay in education.
Clare McGraw, whose daughter uses the YMU, told members at the budget meeting that the intact facility was essential for helping those who become pregnant while in school.
She said: "Any changes to the YMU should be done with care and attention, given the crucial support it provides.
"(Education convener) Stewart Hunter has already said to me that the planning could have been better.
"The principal teacher has been there for 24 years and is essential as a relationship with those involved in the unit. This amounts to a dismantling of the YMU."
Opposition groups rallied round the unit, proposing a series of alternative savings in the hope it would spared restructuring.
Derek Scott, the Conservative member for Broughty Ferry, proposed slashing food and refreshment for councillors, alcohol purchases and hospitality budgets.
He said that by saving £44,000 in the entertainment allowance, the council could afford to keep the principal teacher at the YMU while still balancing the books.
However, his motion was defeated by SNP members who pushed ahead with their proposals and Labour councillors who declined to vote.
SNP finance spokesman Councillor Willie Sawers said: "This is the ninth year in a row that the council tax has been frozen in Dundee.
"Within the savings proposed for council services, we have made absolutely every effort we can to protect the quality of the services we provide.
"Despite the challenging financial circumstances, the council has included over £12 million in the 2015/16 revenue budget to fund developments in our services.
"In social work, we are supporting increased demand for services and have been able to provide a further £1.6 million to support some of the most vulnerable people in our city.
"We are focusing on creating better employment opportunities for young people and have taken on 40 modern apprentices, some of whom have now completed their training and have moved into permanent posts in the council."WHAT WAS AGREED? The restructure of the Young Mums Unit including relocating it from Menzieshill High School to the Jessie Porter Nursery, at the Baldragon Academy site and the loss of one principal teacher role £44,000 in savings. Closure of the family support service at Bruce Street £92,000 in savings. A major service redesign and rationalisation of ground maintenance and street cleansing operations £664,000 in savings. The proposed savings will be derived from a reduction of the nine three-man crews to two-man crews on various routes. Savings for the following year will be achieved through a "comprehensive review" of ground maintenance and street cleaning functions. Schools ICT Capital Budget Reduction £460,000 in savings. Transferring secondary schools sports facilities and schools swimming pools to Leisure and Culture £286,000 in savings. Closure of Baxter Park and Victoria Park bowling greens £60,000 in savings. They have been picked out as the two poorest performing in the city. The recent addition of 18 school and family development workers has paved the way for the deletion of four education resource workers posts £221,000 in savings will be achieved over two years. PROTESTS OUTSIDEProtesters calling for a 'no cuts' budget and the saving of Menzieshill High School made their voices heard in the City Square ahead of the budget meeting.
More than 50 campaigners held a rally where members of the public could have their say on the proposed cuts.
Jim Macfarlane, branch secretary for Unison, said the city had "suffered enough."
https://youtube.com/watch?v=B0OA9PG6UvU%3Frel%3D0
He said: "There is a higher demand for services for older people and young people and these people deserve a good service."
Michael MacGregor of the Revolutionary Communist Group and Dave Mundt of the Save Menzieshill High group also made speeches.
Mr MacGregor hit out at the SNP administration saying: "We didn't vote yes in this city for the SNP to close our schools."
Mr Mundt said: "Enough is enough. No more budget cuts and no more school closures."
Some opposition councillors came to speak with protesters before the meeting.IT'S NEVER DULL WATCHING THE 'GREY SUITS' CLASH"Sit down and "shut up" were among the insults thrown during heated budget exchanges, which also drew cries from the public gallery as cuts were thrashed out, writes Jenny Thomson.
Political battle lines were drawn before the meeting, pictured, which at times descended into name calling and accusations of asking 'stupid' questions.
The SNP administration's budget, which was approved after 2 hours of cross-party squabbling, was branded "detrimental" and "boring" by Labour councillors.
Councillor Lesley Brennan quipped: "Anyone who says finance is boring has obviously never heard your delivery of a budget," in response to deputy convener Willie Sawers' presentation.
There were accusations of council standing orders being breached as tensions flared at times, with Labour councillor Richard McCready being told to "sit down" and shouts for council leader Ken Guild, SNP, below left, being told to "shut up" .
Mr McCready asked of both the capital and revenue budgets if there had been "any secret negotiations" councillors should know about, to which the deputy convener responded by confirming the budget information was "accurate" and asked if anyone had "sensible questions."
Meanwhile, Labour group leader Kevin Keenan was accused of making "stupid remarks" by praising himself for helping move the young mums' unit to Menzieshill High in the first place.
The unit proved a major bone of contention and during the meeting SNP education convener Stewart Hunter took to Twitter to say: "Think certain opposition cllrs need to ask the young mums to borrow a dummy cos they have just spat theirs out."
Lib Dem Fraser Macpherson claimed he was obliged to support the Labour amendment as "most of the savings" identified were his but, when it came to vote on his amendment, the Labour group choose not to vote on masse.
The administration was quick to point out the snub, with the deputy convener sniping: "Seems strange they stole all your savings then didn't vote for your amendment."
At times the political spate deviated from the issues and became as petty as criticising the colour of councillors' suits.
Mr Keenan hit out at changes to the young mums' unit and said: "This is men in grey suits making decisions about young mums."
His comments were mocked both in the chamber and on social media, with Councillor Will Dawson tweeting: "Men in grey suits…. This comes from a man in a grey suit…..hmmm" while housing convener John Alexander even felt the need to apologise for his own grey suit in a mocking blow to the Labour group.
The bitter clashes were not contained to the floor with shouts from the public gallery about "stretch limos" which had to be silenced by the deputy convener.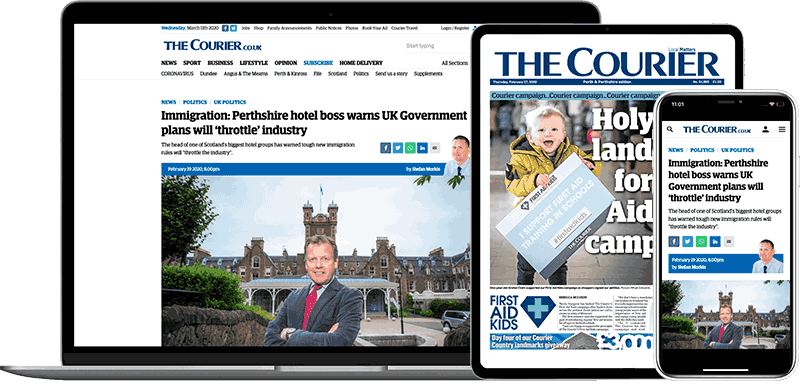 Help support quality local journalism … become a digital subscriber to The Courier
For as little as £5.99 a month you can access all of our content, including Premium articles.
Subscribe