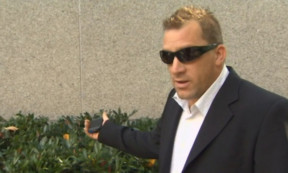 The Canadian man jailed for the hit-and-run killing of a former Dundee woman has launched an appeal and could be bailed.
Cory Sater hopes to have his conviction overturned or, failing that, have his seven-and-a-half year sentence reduced.
He had been drinking heavily before getting behind the wheel of a two-tonne Jeep Cherokee on the Lougheed Highway in Vancouver on the night of February 19 2011.
Sater was oblivious to fitness trainer Charlene Reavley, who was at the roadside helping the victims of an earlier accident, and he ploughed into the mother-of-four killing her instantly and throwing her body more than 60ft.
She and her husband, Dan, had stopped to help Lorraine Cruz and her boyfriend, Paulo Calimbahin, after their car hit the central reservation.
Ms Cruz also died in the accident and Mr Calimbahin lost a leg.
Sater drove on after striking the group and his car was found abandoned several miles away.
He turned himself in to the police the next day.
The roofer and single father-of-two was found guilty last year of two counts of dangerous driving causing death and two of drink-driving causing death and he was sentenced last month.
His lawyer, Rishi Gill, said that documents filed with the court of appeals on May 30 focus both on the charges on which he was convicted and the sentence imposed by the judge.
While Sater admitted responsibility for his actions, he believed the judge had been in error in how he applied the law to his case.
Mr Gill said: "His position has always been that he does not believe that his liability is criminal liability."
Mrs Reavley's father, Colin Ogilvie, said: "The poor maggot feels he was dealt with unfairly and that the sentence is too severe.
"Both Dan and myself expected it, so not too much of a surprise considering the fact that there was never any remorse shown until the day of sentencing.
"I guess it is all about lack of accountability and all of a sudden finding that his life would be unfair not having time with his children."
Mr Reavley also said that he was not surprised by the appeal. "That's the type of person he is," he said.
"The guy's kind of a loser. He doesn't have anybody else. He's all about himself."
The family is now waiting to hear if Sater will be granted bail while he waits for his appeal to be heard.