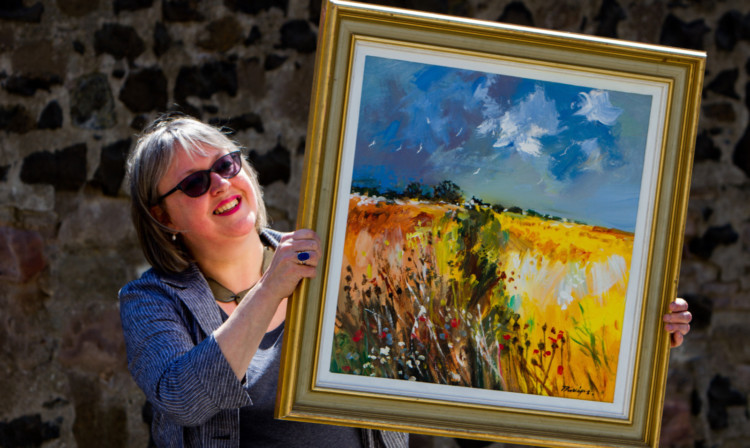 Never-before-seen paintings by a late Dundee artist are being exhibited for the first time after being found in his attic.
A collection of works by Douglas Phillips was discovered by his daughter Deborah Phillips, who is exhibiting them in Edinburgh from today.
These 42 paintings, the vast majority of which have never been exhibited, feature landscapes from his beloved east coast.
The collection includes a dramatic watercolour of Danger Point in Arbroath, a frosty afternoon in Auchmithie and a blustery day in Crail.
Deborah said the works were some of her father's best which he kept for his own personal collection.Click here for a full photo gallery"He was a very prolific painter who did exhibit widely but he kept his best pieces for himself. Danger Point was a particular favourite and this is the first outing for that one.
"I was clearing out my parents' house when I came across a folder with more paintings in it. I wasn't even aware the portfolio existed but there were some amazing paintings in it.
"I would rather people had the chance to see these. Now he has passed away I would like his name and his art to continue."
Well known for his drawings and paintings of bygone Dundee, Douglas also worked for DC Thomson for many years as an illustrator and then as a freelance artist producing the front covers for the People's Friend, illustrations for the Fireside Book and features in the Friend.
Deborah added: "He painted many subjects and areas but his abiding love was always his native east coast of Scotland.
"My father adored the East Neuk of Fife, which he painted frequently.
"Childhood holidays were almost always spent exploring his favourite villages of Pittenweem, St Monans and Crail.
"He also loved the sea and the coastline of east Scotland, so this features in easily half of his paintings.
"Auchmithie was another favourite spot for my father and he painted it often.
"I remember once he made a recording of the sound of the sea on the pebbles at Auchmithie beach and would play it when painting back in the studio to recapture the atmosphere of the subject.
"I was very happy that Jan Morrison of the Leith Gallery invited me to exhibit my father's paintings. He had a long association with the gallery and would have been delighted to see his one-person show."
The works will be displayed in the Leith Gallery, 65 the Shore, Edinburgh, until Saturday June 28.
Opening hours are Tuesday to Saturday from 11am to 5pm, or by appointment.