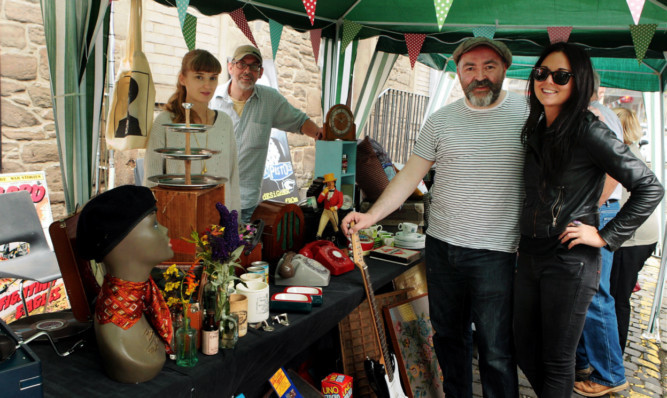 A bizarre bazaar could put Dundee in the Guinness World Records.
The event, branded "the world's smallest street market", saw numerous boutique stores set up in Johnston's Lane, Dundee, on Sunday.
The street, which measures only 64 feet by 12 feet wide, was once named the poorest slum in Britain and has been home to a slaughterhouse and a shop owned by the grandfather of James Bond novelist, Ian Fleming.
Yesterday it played host to a street market organised by Richard Cook, founder of optical boutique Spex Pistols, also situated on Jonhston's Lane.
It featured eight sellers and craftspeople including Sooz Gordon Designs, Jane Gowans Jewellery, Cabar and Fiodh and a spectacle hospital from Spex Pistols.
Organiser Mr Cook said: "We are hoping to organise the best and most quaint ever Dundonian street fair to raise money for charity and, excitingly, to hopefully earnthe little street a place in the record books too."
Other activities for market browsers to enjoy included a record stall from Groucho's Records, book stall from Multi Story Books, alfresco haircuts in an antique barber's chair from Benjamin Barker barbers and live music from Nicola Madill, Sean McGouldrick, Peter McGlone and Chris Marr.
Food was also on offer from West End grocers Frasers Fruit and Veg, who offered berries and cream, while the Parlour offered coffee and cake and the Globe bar offered a burger and a beer for £5 to anyone visiting the street market on the day.
Spex Pistols has already added some new history to the forgotten street of Johnston's Lane since opening in 2011, with visits from legendary musicians such as Johnny Marr, guitarist with the Smiths in the 1980s, members of Snow Patrol, the View, Simple Minds and Deacon Blue.