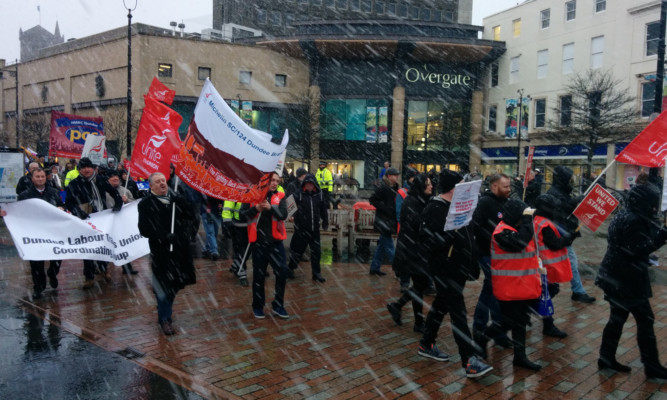 Failure to heed the words of Dundee's workers could lead to industrial action, union chiefs have warned.
The threat was issued to city councillors and the Scottish Government as hundreds of trade union members marched through the streets on Saturday.
They gathered for a rally ahead of a February 25 council meeting that could seal the fate of hundreds of local authority employees.
Though just 45 job losses have been announced so far, there are fears as many as 750 jobs could go as the SNP administration attempts to make £23 million of cuts.
Led by a piper, and under police escort, the marchers gathered amidst swirling snow in City Square to hear speakers challenge councillors and MSPs to fight for a better deal for workers.
Jim McFarlane, Unison branch secretary for Dundee and Scottish Trade Unionist and Socialist Coalition (TUSC) candidate for the Dundee West seat in the Scottish Parliament elections in May, warned that failure to do so could lead to strike action.
https://youtube.com/watch?v=gBWwVIX0Vw0%3Frel%3D0
He told those who gathered within shouting distance of the City Chambers: "Between now and the budget setting we will keep up the pressure on every councillor in this city to let them know that they need to take a decision and decide whether they are on the side of the Tories or on the side of the working class and the workers of this city.
"We need to take action and if they do nothing then they are challenging us; asking us 'What are you going to do?'.
"We will not stand idly by and decimate services in this city and if that means that we have to take industrial action then that is what we will have to do.
"We are stronger than them and we need to remind them of that."
Mr McFarlane added: "We did not cause this financial crisis and we should not be forced to pay for it.
"If you claim to represent the people of this city; if you claim to be standing up for the workforce and communities of this city and if you claim to value us, then you should make the choice to oppose these cuts.
"We need action that will make our jobs safe."
Mike Arnott, secretary of the Dundee Trades Council, urged people across Dundee to make their voices heard.
He said: "If you stand on a manifesto of anti-austerity and no cuts as the SNP Government have and our SNP council administration have, then you have to do a better job than this.
"Lobby your councillors so that they know this is not good enough and then make your way to City Square on February 25 so they can hear you through the stained glass of the City Chambers.
"Let them know that enough is enough. We are not having it and we will fight back."
The pair addressed trades union members from across the city, together with fellows from Fife, Edinburgh, Aberdeen and Perth who travelled to Dundee in a show of solidarity.
Other speakers included Rachel Paton from the PCS union, who criticised the decision by HMRC to close the city's Sidlaw House tax offices and transfer even more staff from Caledonian House.