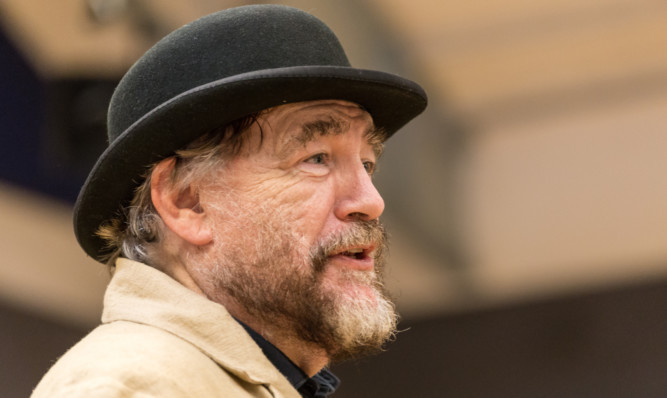 Dundee-born actor Brian Cox is to star as Winston Churchill in a new film exploring the run-up to the D-Day landings.
The in-demand Hollywood actor has been cast as the one-time Dundee MP in the British production, which focuses on the 48 hours before the Allied invasion of Normandy on June 6 1944.
Directed by Brian Welsh, who has helmed In Our Name and the David Tennant TV series The Escape Artist, the film explores how Churchill's wife Clementine helped him maintain his resolve despite his exhaustion after years of war and his battle with depression.
The film's screenplay has been written by historian and author Alex Von Tunzelmann.
Churchill is one of a number of films and TV series exploring the life of one of the UK's greatest prime ministers.
Kevin Spacey is to star in Captain of the Gate, which will look at his rise to power while The Theory of Everything writer Anthony McCarten is writing a screenplay called Darkest Hour, based on the evacuation of Dunkirk in 1940.
Meanwhile, Michael Gambon will star in Churchill's Secret, examining his life after the second world war.
Cox, 69, is the first person to be cast in Churchill, which is expected to start shooting next year.
The actor, who was most recently seen as Bob Servant in two series of the comedy, was the first actor to play Hannibal Lecter on screen.
He has appeared in a host of Hollywood films in recent years, including Rise of the Planet of the Apes, Troy and X-Men 2.
Forthcoming appearances include the US TV series The Slap, while he will appear in the forthcoming comedy Super Troopers 2 and new thriller The Jesuit, written by Taxi Driver writer Paul Schrader, alongside Ron Perlman and Tim Roth.
While Churchill has been described as a "ticking clock thriller" he will return to something a little more light-hearted this weekend when he appears at the Chortle Comedy Book Festival in London this weekend.
He will be joined by his Bob Servant co-stars Jonathan Watson and Alex Norton.
Bob Servant author Neil Forsyth said: "It's great to have Brian involved for what will be a fun night.
"He's managed to fit us in between Penny Dreadful and Super Troopers 2 so all bets are off in terms of his costuming."
Churchill was MP for Cox's home town of Dundee from 1908 to 1922.
Although he believed it a seat for life, he was defeated in 1922 by prohibitionist Edwin Scrymgeour.
Churchill never forgave Dundee and turned down the freedom of the city in 1943 but a plaque commemorating his time as MP was unveiled at the Queen's Hotel in 2008.
He used the hotel as his base when first campaigning for the Dundee seat.