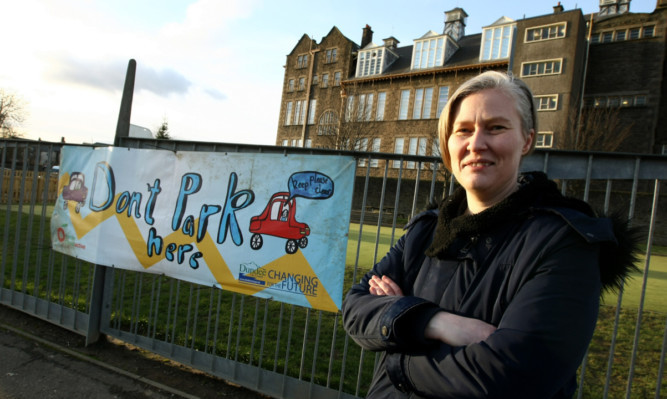 Parents face being "named and shamed" if they park dangerously outside schools after a Dundee mum took her fight to the Scottish Government.
Nichola Fraser says child safety fears have failed to persuade "lazy" parents to park up cars and walk a few feet to drop children at Clepington Primary School.
Now she is seeking help from Shona Robison MSP to tackle the issue, including getting a change in the law to enable inconsiderate motorists can be hit with a financial penalty.
After a meeting with her MSP, Nichola said: "Shona was very supportive of our concerns and was keen to look at the possibility of legislative changes.
"This would be to consider adopting sections of the Traffic Management Act 2004 as used in England and Wales which allows for penalty charge notices to be issued by post where it was not possible to serve the notice.
"CCTV footage could also be used."
Currently only police or council wardens can impose on-the-spot fines for those who park across double yellow lines, over the pavement and on top of "school keep clear" markings.
Another suggestion was to set up a Facebook page to expose parents who endanger children by parking badly.
Nichola added: "Other ideas were also discussed that parents could take a lead on such as a name and shame type of Facebook page, school parking champions, drop off points, park and stride things that have been tried by Clepington primary and other schools in the past.
"It was acknowledged by all that an attitude and behaviour change was required in parents who continually park illegally and dangerously."
Constable Gordon Dickson of Police Scotland's divisional road policing unit pledged to increase the police presence at Clepington primary school during the short term and endeavour to speak to parents parking illegally.
He said driving prohibitions could also be considered at specific times as is done at other Dundee schools.
Parking Scotland also attended the meeting, and have pledged their support too.