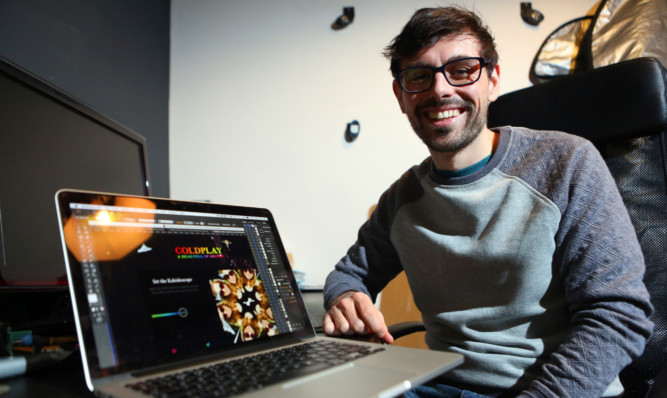 A Dundee web designer has been drafted by music stars such as Coldplay and the Chemical Brothers to help polish their online images.
Ryan McLeod, who runs design company Made by Slurpp, has worked on websites for both bands, most recently for the launch of Coldplay's hit album A Head Full of Dreams, which was released last month.
Ryan and Grant MacLennan, from Glasgow digital firm Neu, created a website for the band where fans could upload photos to create their own artwork inspired by the cover of the album.
Once fans have completed their artwork, they are then emailed a printable file and an animated gif to post on social media.
For dance duo the Chemical Brothers, Ryan and Grant helped redesign the band's website to reflect the artwork on their most recent album, Born in the Echoes.
Ryan, 28, said: "The brief was to encourage social media sharing and to drive content generation.
"It allows fans to engage with the artwork for the new album and take ownership of it so they can use it for profile pictures and so on."
He added: "The challenge is to create something that is relevant to the artist and to what appeals to their fan base.
"It is really to create an experience that is visually exciting."
Ryan graduated from Duncan of Jordanstone in 2010 after completing his degree in interactive media design.
Last year he and Grant set up an innovative clothing website called Instee, which allows customers to design and print their own T-shirts on an order by order basis.
Since graduating from DJCAD, Ryan has worked for a digital agency in Glasgow and freelanced in Canada.
After returning to Scotland, he set up Made by Slurpp which he runs from the Fleet Collective, a co-working space in Dundee.
He has also worked with a number of other companies in the city.
"I do a range of stuff and a lot of branding work," he said.
"I've been working on rebranding for Dundee company Open Change, which is launching this weekend."
A Head Full of Dreams debuted at number two on the UK album chart following its release in December.